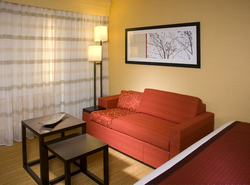 Newport News, VA (PRWEB) April 1, 2011
For the second year in a row, the Courtyard by Marriott Newport News Airport earned stellar reviews from their guests, thereby securing one of Marriott's coveted Gold Circle Awards of excellence. Managed by LTD Hospitality Group of Chesapeake, VA, the Courtyard by Marriott is a leader among hotels in Newport News, VA, not only offering a stylish and innovative hotel experience but also providing top notch customer service which is definitely getting noticed.
This honor is bestowed upon hotels earning the most outstanding guest feedback in the Marriott system. The Courtyard Newport News was named a Gold Circle Hotel Recipient (awarded to the top 10% of the brand in overall Guest Satisfaction Scores) and one of only thirty-four hotels selected to receive this award out of over 850 Courtyard hotels worldwide. Marriott's guest awards were created to honor the best of the best as measured by our most important constituency, the guest.
"It is an honor to be recognized by Marriott International for the second year in a row since the hotel's opening," said Scott Krasche, General Manager of the Courtyard by Marriott Newport News Airport. "This award is a direct testament of our associates, who are dedicated to providing top-notch service and superior accommodations to our guests."
"This hotel has raised the bar internally for the LTD family of hotels by representing the highest achievement in quality, people, and service," said Neel Desai, Managing Principal of LTD Hospitality Group. "LTD hotels value our customers' feedback and we continually strive for excellence to create a unique travel experience for all of our guests."
Among the many positive guest experience testimonials about the Courtyard by Marriott Newport News, a recent guest comment stated "The staff at the Newport News Airport Courtyard was among the best that I have ever seen at a hotel. Their commitment to customer service was extremely obvious and made for a great stay."
Book a stay today at the Courtyard by Marriott and enjoy unique accommodations among hotels in Newport News, VA, where the customer truly does come first at http://www.marriott.com/phfcn.

Spacious guestrooms each with a 42" flat panel HDTV
Complimentary Wi-Fi available throughout the hotel
Indoor swimming pool
24/7 Market & Bistro Café serves made-to-order snacks, entrees, Starbucks® specialty
coffees, and premium beers and wines.

Complimentary onsite parking and Airport shuttle.
The Courtyard by Marriott Newport News Airport is located in the heart of Newport News, near the Newport News International Airport, the Virginia Air & Space Center, Christopher Newport University, Patrick Henry Mall, Peninsula Town Center, Busch Gardens and Prime Outlets Williamsburg. The hotel offers complimentary airport shuttle to and from the airport for added convenience. The Newport News hotel also features a boarding pass kiosk, the 52-inch LCD touch-screen GoBoardTM providing up-to-date local information, and comfortable media pods with LCD TVs. Wi-Fi is complimentary and there are ample electrical outlets throughout the lobby to power digital devices. The Bistro – Eat. Drink. Connect.TM, is Courtyard's new "fast casual" dining experience. Providing plenty of healthy options for breakfast and dinner, The Bistro also offers Starbucks®, wine, beer and an assortment of juices and sodas.
Courtyard by Marriott was the first lodging brand exclusively designed for business travel by business travelers. Travelers can experience the new lobby by visiting http://www.gocourtyard.com. To book your stay, call Marriott Reservations at 800-321-2211 or visit the web site at http://www.courtyard.com.
About Courtyard by Marriott
Courtyard by Marriott is the leading select-service hotel brand in the United States. Providing guests with a combination of casual comfort and time saving services, Courtyard hotels feature large functional guest rooms and are conveniently situated where people travel. All Courtyards now offer free high-speed Internet service to guests. Locations range from airports and office parks to downtown areas and recreational destinations. Several locations feature revitalized historical buildings. Courtyard has over 800 hotels worldwide. Courtyard participates in the company's award-winning Marriott Rewards® frequent guest program. Members earn their choice of points toward free vacations or frequent flyer mileage for dollars spent at more than 3,000 Marriott hotels worldwide.
About LTD Management Company, L.L.C
Founded in 1983, LTD Hospitality Group is an organization comprised of several key strategic business units including Asset Management, Hospitality Management, and Development that specialize in the lodging and hospitality real estate sector. LTD's overarching mission is to be the most respected hospitality organization in the United States, as measured by the value created by delivering first class service to each of our associates, our guests, and our partners (including investors, franchisors, and leading institutions). Through its private Asset Management Division, LTD has invested approximately over $200 million in the lodging sector. LTD's Management Division is the organization's award winning operating arm. This division currently manages more than 3,600 hotel rooms throughout the United States, which are affiliated with Marriott, Hyatt, Starwood, Intercontinental Hotels Group, and Hilton. LTD's Development division has completed over $800 million of hospitality and mixed use projects. For more information, please visit http://www.ltdhospitality.com.
# # #