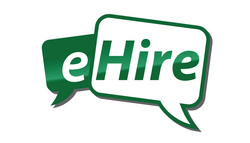 We have nearly tripled the number of eHire employees, revenue and client base without marketing and PR.
Atlanta, GA (PRWEB) April 5, 2011
eHire LLC., an Atlanta-based recruiting and staffing company announced today that it has released its new website that will serve as a platform for it's growing business within both the Atlanta and National business communities. A conservative estimate has the National business community adding close to 200,000 jobs per month, and eHire is poised to assist job seekers with guidance as well as be one of the leading organizations to meet that hiring demand.
Since there are over 6,000 staffing firms in the United States right now, that generate almost 62 billion dollars in sales, eHire has invested significant time and resources to offer both its clients and candidates a higher level of service including the latest news on local job markets, IT trends and career guidance. This new brand experience is a reflection of their expanding business and ability to grow with Atlanta and the Nation's changing job market. Six core features have been added that will allow for increased interaction with subject matter experts including advice on the latest trends in the National job market. eHire's new online experience will be integral in meeting the demands of the hiring increase that has come at the beginning of 2011 and will likely continue throughout the year.
"eHire has experienced tremendous growth since its founding in mid-2009." said Seth Ryan, Managing Partner of eHire. "We have nearly tripled the number of eHire employees, revenue and client base without marketing and PR. By investing heavily in people, tools and social media, eHire stands ready to exceed the requirements of our existing clients while also having resources to meet additional demand."
Every year, staffing firms employ over 8.5 million people. It is difficult for job seekers to know whom they can trust. eHire uses feedback from successful relationships to determine what candidates and clients look for in a trusted partner. This research has been leveraged to build the new website that will serve as a respected outlet for the content that applies directly to those hiring and being hired.
Core eHire.com Features:

Blog: Get news and insight on the latest industry trends, the blog is a great resource for tips and tricks in hiring and getting hired in the current economy. There is also a comments feature for asking advice and making future topic suggestions.
Process: Transparency at its best, there is no guesswork when working with eHire. The entire process is outlined and detailed on the new site. If a firm can't tell you about it's process, something's wrong. A placement should be about finding the right role for the candidate and the right person for a client's need. Listening to candidates and clients is a key part of any successful firm's process.
Social Media: eHire now has Facebook, Twitter and LinkedIn accounts. Their social presence is a simple way to interact with the IT community and offer their recruiters' services and knowledge as subject matter experts.
Testimonials: A great way to see what kind of talent eHire works with and see reviews from it's impressive client list.
Job Search: Stay on top of the latest job openings in Atlanta and across the country. Sort by industry or skill, coming soon there will be an option to subscribe for new postings. eHire has many exclusive jobs and relationships with clients. It's easy to apply for a job or share it with a connection.
Community: Being active in the local professional and philanthropic communities is easy with the new eHire community pages. Get information on upcoming events in the Atlanta area to stay involved in the IT community and have a chance to meet the eHire team in person.
About eHire:
eHire LLC. is Atlanta's fastest growing source for Information Technology, Sales & Marketing and Executive Management talent. eHire's clients range from startups to Global 2000 companies in a diverse range of industries. eHire serves as a resource for talented professionals and exclusive job opportunities across North America. For more information, please visit http://www.ehire.com.
Source: eHire, LLC.
Contact info:
eHire LLC.
Kate Clark, Marketing Manager
(404) 477-2680
kate (at) ehire (dot) com
###