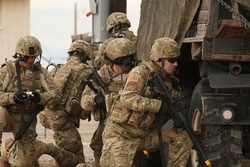 Portland, OR (PRWEB) April 6, 2011
Triggerfinger Software provides keyboard and mouse input with a game controller to surf the web, online gaming and more via PC and Internet connected TV.
Stop fumbling with multiple devices, use Triggerfinger Software-enabled controller to streamline online experience.
Triggerfinger Software was developed to provide full keyboard and mouse capabilities with a game controller. This allows a game controller to replace the keyboard, mouse, and remote control for internet-enabled TV. 87% of gamers prefer the game controller for online gaming with their big screen TV or PC. Even more would prefer a game controller if their game controller was enabled with Triggerfinger Software.
Surf the web without crouching over a keyboard. Composing emails, typing web addresses, selecting web links and everything else can be accomplished with a single device - a Triggerfinger-enabled game controller.
Triggerfinger Software is proud to be a candidate for complete command and control operations for Unmanned Vehicle Systems. Imagine having Military grade technology in the game controller for a more natural online experience.
About Triggerfinger Software: Founded by Douglas Naimo in 2003, Triggerfinger Software is the industry leader in the development of Handheld Advanced Technology Systems (HATS) for operating computer platforms for Education, Accessibility, Consumer, Entertainment and Military applications. Affiliated organizations focused on the development and distribution of HATS capabilities include Triggerfinger Research Institute, Triggerfinger Simulation Training Center and Children's Accessibility Foundation.
###