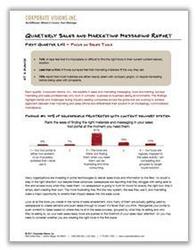 Incline Village, NV (PRWEB) April 1, 2011
Each quarter, Corporate Visions, Inc., the leader in sales and marketing messaging, surveys marketing and sales professionals who work in complex, business-to-business selling environments. The findings highlight trends and challenges facing industry-leading companies across the globe that are working to achieve alignment between their marketing and sales efforts, and de-commoditize their solution in a market overwhelmed with similar, competitive offerings.
Key findings include:

74% of reps feel that it's impossible or difficult to find the right tools in their current content delivery solution.
Less than a third of those surveyed feel that marketing materials fit the way they sell.
75% report that most materials are either heavily laden with company jargon, or require translating before being used with prospects.
The Corporate Visions Quarterly Sales and Marketing Messaging Report is free for download.
About Corporate Visions, Inc.
Customer conversations are your best opportunity for competitive differentiation. You need to be different, where it counts. With Corporate Visions you will: develop messages that matter because they focus on your customer and set you apart from your competition; deploy tools that get used by the field because they are aligned to every step in the buying cycle, and empower you to accelerate deals through the pipeline; deliver training for winning conversations that teaches you the science and art of how to tell your story with impact and differentiation at ever customer interaction, making it easy for prospects to choose you.
For more information contact us at http://www.CorporateVisions.com or by calling 775-831-1322 or 800-360-SELL.
Corporate Visions" world-class customer advisory board includes: MasterCard, ADP, CA, Oracle, GE, Xerox, Millipore, AmerisourceBergen, Infor and Progress Software. For more information contact us at
###