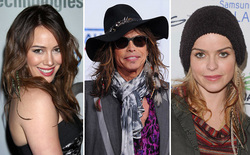 "This is the hottest new look in Hollywood, Miami, New York and now Boston!" - Naz Kupelian
Greater Boston, MA (PRWEB) April 4, 2011
"American Idol" rocker Steven Tyler's bohemian style, glamour girl Blake Lively's trendy tresses, and pop princess Miley Cyrus' feathered locks? Whether they are brightly dyed or of a more natural hue, dramatically abundant or one subtle strand, feather hair extensions are Hollywood's hottest hair accessory! Previously available only in Los Angeles and New York City, Featherlocks™ are now available at the Naz Kupelian Salon, located minutes outside of Boston in Lexington, MA.
Go ffor rocker chic with hot pink feathers or channel a "sweet hippie" style with natural looking plumage, the Naz Kupelian Salon will help hone your vision. Featherlocks™ are available in a variety of colors and lengths, and are a great way to add a little excitement to your everyday look. The extensions clip safely into your hair and can last anywhere from two weeks to two months, during which you can wash, dry and curl your hair as usual! The extensions can easily be removed in a matter of seconds, so embrace your summertime, carefree attitude and spread your wings with Naz Kupelian Salon and feather hair extensions!
A single feather is $15 including application process. For more information please call 781.676.7791 or visit http://www.nazkupeliansalon.com. Visit Naz Kupelian Salon, 311 Woburn Street, Lexington, MA 02420, and experience all the possibilities that feather extensions offer.
# # #