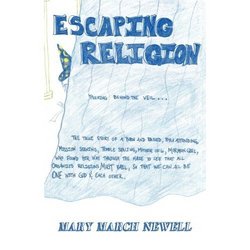 We are devoted to Sources of Light and Truth! Information that will enlighten you, or improve your health, or improve your life!
Grandville, MI (PRWEB) April 2, 2011
Devoted to all things uplifting and enlightening, Mary March Newell promotes her recently published book: Escaping Religion; Peeking Behind the Veil, the True Story of a Born and Raised, BYU Attending, Mission Serving, Temple Sealing, Mother of 6, Mormon Girl, Who Saw Her Way Through the Maze to See That ALL Organized Religions MUST Fail, So That We Can All Be ONE With God & Each Other, as well as another upcoming publication. The website, EscapingReligion.info, is committed to the purpose behind Newell's books, as well as other products, ideas, services, and much more that help people improve their lives--items and concepts that increase longevity, prepare individuals for self-sufficiency, and more.
"We are devoted to Sources of Light and Truth! Information that will enlighten you, or improve your health, or improve your life!" summarizes Newell.
In Escaping Religion…, Newell addresses some interesting things about organized religion of all kinds, and also points out some historical inaccuracies and other accepted tenants about religion that don't measure up upon closer inspection, such as:
The sources of those "warm fuzzies"
What causes the "Burning in your bosom"
Which two churches actually exist
Whose priesthoods are mentioned in the temple
What "prophets" know and don't know in their own words
Where to find the complete translation for the Egyptian hieroglyphics that are in the Pearl of Great Price
"With regards to the book Escaping Religion..., I offer nine very obvious and easy to prove reasons why the 'church' CAN'T be 'true' in Chapter 6. Listen to #1 on my YouTube video promoting the book," adds Newell.
The video available here offers a personal statement by Newell prefacing the points detailed in the book. The website also features products related to the book, such as bumper stickers, mugs, and decorative wall plaques. These items feature uplifting quotes, such as: "It is a dangerous thing to assume that you have ALL Truth. Then you Stop Searching."
"I really want people of ALL faiths and walks of life to read my book. I feel that I have put together a number of pieces that will make the whole organized religion picture fall into place. There is something in there for everyone, LDS or not. Something that will uplift and inspire you, and that will give a positive direction to head in for people of all faiths who have become disillusioned by the belief system that they were raised in," states Newell.
Another apropos point made in the video as well as the book is the current debate on marriage. Newell fleshes out ideas that relate to what is considered a biblical marriage and also addresses the government's role in defining marriage. She poses a historically and biblically accurate solution to the hot topic of the definition of marriage.
Newell's second publication is Picking Up Hitch Hikers; Life Without Fear!
The site also promotes a handful of health and wellness products, such as family emergency medical kits and permanent natural breast enhancement, information relating to Quantum Touch, natural herbal remedies, essential oils, and more. The next endeavor in personal wellness is a line of designer swimsuits that are both modest and stylish.
The recently published Escaping Religion…is currently available on Amazon.com and more information about spirituality, life improvement and wellness, and a host of other uplifting tidbits are available at EscapingReligion.info.
About Mary Newell, Queen
Through her book, website, and promotion of select products and concepts, Mary March Newell is committed to all things that will uplift people's spirits and improve their lives. She is devoted to helping others find freedom and truth on their own paths. Prior to this endeavor, she served as a Russian speaking LDS missionary from 1993 to 1995, taught ESL professionally and homeschooled her 6 children. She is also a trained remote viewer and a certified Quantum Touch expert.
###