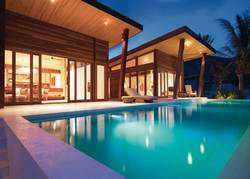 Remote Lands matches our clients' own particular desires to the perfect hotel to form the foundation of our bespoke itineraries.
New York, NY (PRWEB) April 7, 2011
Remote Lands, the world's foremost ultra-luxe private tour operator focused exclusively on Asia, has done extensive reconnaissance trips to determine for our clients the finest hotels in Asia. From India to Japan, Asian luxury properties offer the world's ultimate service and facilities, such as private pool villas, personal butlers, and Michelin-starred restaurants. "From refurbished colonial bungalows, to boutique resorts, to large urban hotels," said co-founder and CEO Catherine Heald, "Remote Lands matches our clients' own particular desires to the perfect hotel to form the foundation of our bespoke itineraries."
The shortlist for Southeast Asia is as follows.
Cambodia Luxury Hotels – Amansara (Siem Reap) – Formerly the guest villa of King Norodom Sihanouk, the exquisite grounds were originally laid out in 1962; Raffles Hotel Le Royal (Phnom Penh) – Established in 1929, the hotel has hosted an international clientele of globetrotters and adventurers, writers and journalists, royalty and dignitaries. 
Laos Luxury Hotels – Amantaka (Luang Prabang) – South of Phousi Mountain and close to the banks of the Mekong River and the Luang Prabang Night Market, the resort is housed in an old French colonial building surrounded by a spacious courtyard; Settha Palace Hotel (Vientiane) – A French-colonial gem built circa 1932 and restored and reopened in 1999, with just 22 rooms and three suites.
Myanmar (Burma) Luxury Hotels – The Strand (Yangon) – Built at the height of the British rule in Burma, the 32-room Victorian hotel evokes the era of Graham Green and W. Somerset Maugham; Governor's Residence (Yangon) – Once a governor's mansion, located in a lotus garden not far from the Shwedagon Pagoda; Aureum Palace Hotel (Bagan) – Featuring spacious villas that dot the resort's expansive gardens, lavishly appointed with hand-crafted teak furnishings, antiques and local artifacts; Inle Princess Resort (Inle Lake) – Set against dramatic mountains on the northeast shore of Inle Lake, the hotel's 46 traditional Shan-style chalets line the waterfront.
Singapore Luxury Hotels – Fullerton Bay – Think floor-to-ceiling windows and balconies overlooking Marina Bay, with interior design by highly sought-after architect Andre Fu incorporating antique nautical maps and newly commissioned art works; Raffles – Birthplace of the Singapore Sling, Raffles was inspired by colonial bungalows of the early 20th century and ceclared a National Monument in 1987.
Thailand Luxury Hotels – The Oriental (Bangkok) – The haunt of royalty, celebrities, dignitaries and distinguished travelers from Graham Greene to Rudyard Kipling for nearly 130 years; The Peninsula (Bangkok) – Overlooking the Chao Phraya river, with commanding views of the city's skyline, one of the most elegant choices in Bangkok; Mandarin Oriental Dhara Dhevi (Chiang Mai) – A fantasy palace spread across 60 acres, designed by architect Rachen Intawong; Four Seasons Tented Camp (Chiang Rai) – An exotic getaway set in a bamboo jungle in the "golden triangle" of Thailand, Laos and Myanmar; Trisara (Phuket) – A boutique resort located within a beautiful tropical forest over a private bay on the island's quiet northwestern coastline; Amanpuri (Phuket) – A magnificent resort overlooking the Andaman sea, created by the architect who designed the Winter Palace of the former Shah of Iran.
Vietnam Luxury Hotels – The Nam Hai (Hoi An) – One of Asia's premier beach resorts, set on the white sands of China Beach; Sofitel Metropole (Hanoi) – A richly historical 232-room French colonial masterpiece built in 1901, with luxuriously appointed rooms, attentive staff and gracious service; Park Hyatt (Saigon) – A chic 259-room hotel, centrally located in downtown Saigon; Six Senses Ninh Van Bay – 58 pool villas, crafted into rock formations, accessible only by water in the South China Sea; Six Senses Con Dao – 50 oceanside villas, each with its own private infinity pool and view of the South China Sea, on a half-mile span of white sand beach.
# # #