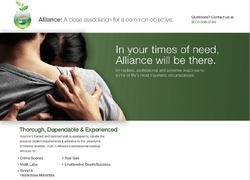 Family members & property owners are generally not emotionally or physically able to deal with the aftermath of a traumatic event. This is where Alliance is unique positioned to lend assistance.
Azusa, CA (PRWEB) April 4, 2011
Alliance Environmental Group, Inc., (Alliance) recently announced the launch of a newly formed trauma clean-up division specializing in helping victims reclaim their properties after exposure to bio, toxic, crime scene or hazardous waste.
"The police and fire department are typically the first responders to these traumatic events," says Joe McLean, CEO of Alliance, "but they do not clean up the biologically contaminated scene of a death (homicide, suicide or accidental) or the chemically contaminated scene of a methamphetamine lab or a tear gas exposure site." This is left to be cleaned up by family members or property owners who are typically not aware of the regulations imposed by the state of California regarding such clean-up. Additionally, owners are not emotionally or physically able to deal with the aftermath.
Companies, such as Alliance, that clean and restore scenes to their pre-incident states, must have specific permits, training and adhere to OSHA, EPA and State Health Department guidelines and procedures.
Cleaning up and removing any sign of the incident, including the safe removal of any biohazards, is only the first hurdle for the home or business owner. There is also a myriad of state and insurance paperwork to deal with. Alliance offers assistance in sorting through and filing the proper documentation.
The new traumatic clean-up division complements the existing asbestos, mold, lead abatement, pest control, air duct and dryer vent cleaning, demolition and emergency response services offered by Alliance to individual and commercial customers.
With over 55 years of combined experience and more than 55,000 environmental clean-up projects completed, Alliance is one of the fastest growing qualified environmental companies in California. For more information the company's cleanup capabilities, visit Allliance-Enviro.com.
###