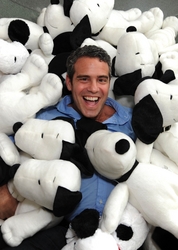 As Snoopy's number-one fan, it was a great privilege—and huge fun—for me to help launch a new PEANUTS special
Santa Rosa, CA (PRWEB) April 1, 2011
Ushering in a new era of PEANUTS-inspired happiness, Bravo's Andy Cohen, along with Charles Schulz's wife and son, Jeannie Schulz and Craig Schulz, welcomed the first original PEANUTS animated special in five years, "Happiness is a Warm Blanket, Charlie Brown," with an early screening and fundraiser at the Charles M. Schulz Museum in Santa Rosa, California, on Thursday, March 31. Visitors were delighted by a special visit from Snoopy, who mingled with guests and brought his unique flair to the evening.
Andy Cohen, a lifelong Snoopy fan, an Executive Vice President at Bravo and the host of Bravo's "Watch What Happens: Live," led the festivities with an "animated" panel discussion with Jeannie Schulz and some of the makers of the film, including writer and Executive Producer Craig Schulz, Director Andy Beall (an accomplished animator whose credits include "Up" and "Ratatouille"), Executive Producer Paige Braddock (Creative Director at Charles M. Schulz Creative Associates), and the voice of Lucy, Grace Rolek. Craig Schulz, along with the other panel members, shared unique insights on the making of the film and how it was inspired by the original work of Charles Schulz from the 1960s.
"As Snoopy's number-one fan, it was a great privilege—and huge fun—for me to help launch a new PEANUTS special," said Cohen. "Seeing all my PEANUTS friends gathered on screen again made me feel like I was a kid watching 'A Charlie Brown Christmas' for the first time."
"Our whole concept with this new special was to stay true to the PEANUTS characters' emotions and to the original look of the strip, while still producing a new story," said Craig Schulz. "And of course, my Dad's work remains at the heart of 'Happiness is a Warm Blanket.'"
"I know Sparky would be honored to see his legacy carried on with this delightful special," said Jeannie Schulz. "Its release is also paving the way as we continue to adapt PEANUTS material into new formats that introduce the magic of PEANUTS to a whole new generation of fans."
"We are grateful to the exceptional team that made the creation of 'Happiness is a Warm Blanket, Charlie Brown' possible and are delighted to celebrate their work and the release of this wonderful film with this very special screening and panel discussion," said Jeff Brown, WHV Executive Vice President and General Manager, Family, Animation and TV.
In the heartwarming new tale—which features an original score by Mark Mothersbaugh of Devo—Linus is pushed to his limits when he learns that his grandmother is coming to visit and plans to rid him of his most cherished possession: his beloved security blanket. As grandma's impending arrival looms closer, the PEANUTS gang finds ways to try and help Linus lose his dependence on his fuzzy crutch.
Lucy is particularly eager to cure Linus' emotional attachment and applies her own psychiatric techniques. Charlie Brown does his best to help but he just does not have the heart to see Linus suffer. Snoopy constantly agitates matters because he longs to have the blanket himself. In the end, insightful Linus points out that everyone has their own type of "security blanket" and that in life, a little security is a valuable thing.
The evening began with a VIP reception as generous donors enjoyed conversation and laughs with Cohen and the Schulz family. Prior to the screening of the new film, guests mingled at a wine reception in the mezzanine of the Charles Schulz Museum, before taking their seats in the Museum's theater for the premiere screening and panel discussion. The overflow crowd enjoyed a simulcast of the proceedings in the gallery that houses a rotating selection of original PEANUTS comic strips.
The evening served as a fundraiser for the Charles M. Schulz Museum's educational programs, which serve young people from preschool through high school with activities designed to involve and excite children about cartooning and art. The Museum's mission is to offer these programs to all children regardless of income level, and with the support of Northern California's generous donors, this private fundraiser will allow the Museum to continue this mission.
About Warner Premiere:
Warner Premiere, part of Warner Bros. Entertainment, specializes in the development and production of both features and digital content for home entertainment platforms. Past projects include "Another Cinderella Story," "Scooby-Doo! The Mystery Begins" and "Batman: Under the Red Hood," as well as the digital series "Watchmen Motion Comics." Warner Premiere is at the creative forefront in the made-for-home entertainment marketplace, producing properties that exemplify the commitment to story, production and brand equity for which Warner Bros. is known.
About Warner Bros. Home Entertainment Group
Warner Bros. Home Entertainment Group brings together Warner Bros. Entertainment's home video, digital distribution, interactive entertainment/videogames, direct-to-DVD production, technical operations and anti-piracy businesses in order to maximize current and next-generation distribution scenarios. WBHEG is responsible for the global distribution of content through DVD, electronic sell-through and VOD, and delivery of theatrical content to wireless and online channels, and is also a significant worldwide publisher for both internal and third party videogame titles.
About the Charles M. Schulz Museum and Research Center
The Charles M. Schulz Museum opened in August 2002 to fulfill its mission of preserving, displaying, and interpreting the art of Charles M. Schulz. The museum carries out this mission through changing exhibitions and programming that: build an understanding of cartoonists and cartoon art; illustrate the scope of Schulz's multi-faceted career; communicate the stories, inspirations and influences of Charles Schulz; and celebrate the life of Charles Schulz and the Peanuts characters. It is located in Santa Rosa, California on the property in which Charles Schulz created his Peanuts comic strip, ate and played for over thirty years.
About PEANUTS Worldwide
The PEANUTS characters and related intellectual property are owned by Peanuts Worldwide LLC, a joint venture owned 80% by Iconix Brand Group, Inc. (Nasdaq: ICON) and 20% by members of the Charles M. Schulz family. Iconix Brand Group, Inc. owns, licenses and markets a growing portfolio of consumer brands including CANDIE'S (R), BONGO (R), BADGLEY MISCHKA (R), JOE BOXER (R), RAMPAGE (R), MUDD (R), LONDON FOG (R), MOSSIMO (R), OCEAN PACIFIC(R), DANSKIN (R), ROCA WEAR(R), CANNON (R), ROYAL VELVET (R), FIELDCREST (R), CHARISMA (R), STARTER (R) and WAVERLY (R). In addition, Iconix owns an interest in the ARTFUL DODGER (R), ED HARDY (R), ECKO (R), MARC ECKO (R), ZOO YORK (R), MATERIAL GIRL(TM), and PEANUTS brands. The Company licenses its brands to a network of leading retailers and manufacturers that touch every major segment of retail distribution from the luxury market to the mass market in both the U.S. and worldwide. Through its in-house business development, merchandising, advertising and public relations departments Iconix manages its brands to drive greater consumer awareness and equity.
Media Contacts
Alex Uliantzeff
alex(at)lippingroup(dot)com
323/965-1990
Alison Hill
alison@currentpr.com
714.444.9731, ext. 201
###