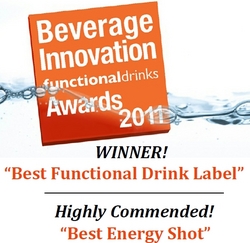 iShot was awarded in two categories
(PRWeb UK) April 4, 2011
All Day Energy Ltd. with their new range iShot "Potions 4 Life" launched earlier this year was awarded in two different categories at the beverage innovation functional drinks awards.
Winner for "Best Functional Drink Label" and Highly Commended for "Best Energy Shot".
Vanessa Uysal who created the packaging designs for iShot said " Having already been reviewed as the best tasting energy shot by independent review sites and media, this is another great achievement and recognition for everybody at iShot from the most prestigious global awards for functional drinks."
All Day Energy Ltd. exhibited their new range iShot "Potions 4 Life" for the first time at The National Convenience Show, NEC, Birmingham in February with a lot of interest on the unique, multi-functional potions "iShot Skinny" and "iShot All Night".
iShot Skinny (Slim Potion)
Scientifically developed with proven ingredients to help suppress apetite, burn fat and increase energy.
iShot Skinny is an innovative, convenient alternative to slimming and weight loss tablets. It takes seconds to drink and works in minutes. Recomended use is to consume 1 bottle/day.
iShot All Night (Love Potion)
Formulated with a potent combination of functional herbal extracts known for their reputed aphrodisiac properties with iShot proprietary energy blend to increase desire, performance and stamina.
A cool and convenient alternative to aphrodisiac tablets. Love potion comes in a shot size bottle that fits into your purse, pocket. The flavour is an all time favourite Cola Kube. All Day Energy recomends to consume 1 bottle for a fun filled night.
iShot All Day & Decaff - Energy Potions
iShot energy Potions draw on the invigorating properties of herbs such as Guarana, Green Tea, Siberian Ginseng, to help increase energy levels and focus naturally with a boost of vitamin B Complex to enhance energy production, amino acids for focus and stamina, glucose polymers to help restore energy levels and powerful anti-oxidants that neutralise toxins and improve health. iShot energy also has a Decaff - Acai Berry energy potion for people who are sensitive to caffeine.
iShot is produced in a brand new, BRC grade A accredited plant in the UK with over £2 million invested in the last 18 months on a state of the art, fully automated processing line. iShot Skinny and iShot Energy is now available through 5000 convenience stores, pharmacies, health stores and sports outlets in the UK.
Kursat Uysal, All Day Energy
# # #