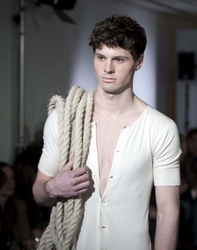 GQ Editor Dylan Jones, hosted the night and provided the audience with product highlights from Jockey's 135 history
(PRWEB) April 1, 2011
MASS MOVEMENT – undoubtedly now the most sought after fashion show production company in London - notched up yet another successful fashion show - this time, for global underwear brand JOCKEY .
To mark JOCKEY'S 135th Birthday MASS MOVEMENT were brought on board to create JOCKEY'S very first fashion show in the UK for members of Europe's fashion elite and media. GQ EDITOR, Dylan Jones, hosted the glittering occasion, which was held at the Hospital Club in Covent Garden.
The spectacular fashion show produced and directed by MASS MOVEMENT celebrated Jockey's heritage and showcased their new collections for Autumn/Winter 2011. MASS MOVEMENT provided a truly great show with stylish choreography, innovative styling, inspirational music which was performed by a stunning group of models.
New collections were also revealed within the show, previewing the latest USA Originals range, featuring products encapsulating the 'American Way of Life', the Urban Luxury range and Countryside range, including pieces representing the outdoors of North America.
MASS MOVEMENT and its professional team were congratulated on a great show by Dylan Jones and Jockey Europe product director Jens Noll was on hand to discuss the inspiration behind the new collections for A/W 2011 and was joined by other representatives of the brand from Europe to the U.S. "
MASS MOVEMENT are the UK'S leading live event and dance agency company who are devoted to supplying the highest calibre of professional dancers, choreographers and show producers to the entertainment industry - working in the UK, Europe and the USA. They have already 'moved' the likes of Adidas, Emi Records, Sonybmg, Polydor, Fascination, V Festival, Next, Clothes Show Live, Nokia, Beady Eye, Jamiroquai, TIGI, Schwarzkopf, Orange, Rte, Esprit, Urban Music Awards, HSBC, Marks & Spencers, G4, Wideboys and Partizan to name just a few - and are waiting to 'move' you for your next event.
For further information, all enquiries and bookings … please visit http://www.massmovement.uk.com or contact Nadia Raibin or Carlene Jordan at MASS MOVEMENT on + 44 (0) 207 289 9199 | info(at)massmovement(dot)uk(dot)com
###