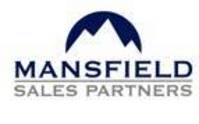 Boston, MA (PRWEB) April 5, 2011
Mansfield Sales Partners, a leader in sales force outsourcing to technology companies today announced a partnership with Sales Force Europe, a major provider of sales services for hi-tech companies intending to launch, develop and expand their business in Europe, Middle East and Africa (EMEA).
The combination of the two firms' offerings will enable technology vendors to develop markets and business more effectively in both North America and EMEA. Our complementary offering of services permits technology firms to enter new markets rapidly and profitably, without the costs, risks and delays associated with opening foreign offices and hiring local employees.
"Many vendors want to pursue opportunities in the EMEA region but have no idea where to begin or how to approach it," said Rick Pizzoli, Managing Director of Sales Force Europe. "Sales Force Europe helps our clients to produce focused, substantial and repeatable success in selling in the complex and diverse European markets."
"That's why we decided to partner with Sales Force Europe to address these issues," continued Chris Foran, President of Mansfield Sales Partners. "Having a successful North American sales program is a good start but the opportunities in EMEA markets can help create significant growth. Working with a firm such as Sales Force Europe permits us to help solve complicated sales and market development problems. Conversely, we can also help rapidly growing European companies to expand into the complex North American market."
Sales Force Europe and Mansfield Sales Partners have been offering these services successfully for several years separately, but this is the first time that technology companies can leverage such a substantial pool of resources to plan and execute their domestic and international sales plans in a quick and efficient manner.
About Mansfield Sales Partners
Mansfield Sales Partners is a leader in providing sales force outsourcing services to rapidly growing technology firms and companies going through rapid change. These unique solutions dramatically increase revenues, build reference account wins and develop a scalable sales model for organizations to follow. Go to http://www.mansfieldsp.com for more information.
About Sales Force Europe
Sales Force Europe is the leader in outsourced sales and business development services for technology firms wishing to expand into Europe, Middle East and Africa. Sales Force Europe develops a unique international go-to-market strategy for each client that leverages its comprehensive network of in-country sales executives. Go to http://www.salesforceeurope.com for more information.
###