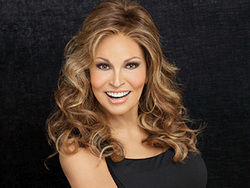 It's not just a wig. It's like your own hair!
Dallas, TX (PRWEB) April 3, 2011
The Raquel Welch brand has proclaimed the latest Spring 2011 Wig Collection as "The New Glamour", boasting that the line exudes a "pared down, pumped up and polished" quality to pique the excitement of every wig wearer. Wigs.com – the #1 online retailer of wigs and alternative hair – has been anxiously preparing the launch of the Spring collection for April 1st of this year.
Offering 7 new wig styles of varying silhouettes, the collection also combines some of the most sought-after features on the market. The Wig Experts at Wigs.com say that the new Raquel Welch line offers "a chic mash up of lace front, human hair and ready-to-wear styles." As always, each wig is titled with a memorable and stand-out name such as Fascination, Legend and Show Stopper. The collection's featured wig is called All That Jazz, a ready-to-wear style that Raquel's right hand man and lead designer Laurence Bate describes as "a fresh look with a European edge."
In addition to All That Jazz, the Spring line includes two other styles designed with Raquel Welch's Vibralite synthetic fiber: Star Quality and Top Knotch. Top Knotch is a ready-to-wear sassy boy cut with a monofilament crown, and Star Quality is a long and layered lace front wig with a monofilament part. As Raquel Welch knows well, wigs designed with monofilament or lace front features are the most believable; the brand maintains that the monofilament feature gives the appearance of natural hair growth where the hair is parted, while the lace front feature mimics a natural hairline at the forehead.
Raquel Welch's Spring Collection offers versatility and styleability in its wig styles made with the patented Tru2Life technology - a heat-friendly fiber that is designed to be taken from curly to straight and back again. Fascination is a flirty yet sophisticated short cut, and Show Stopper is a favorite of the Wigs.com Wig Experts with its lace front and monofilament top. They believe the wig to be the ultimate in sexy while also exhibiting natural movement. Legend, a long style with beach waves, is sure to have loyal Raquel Welch brand wearers buzzing with the combination of a popular, youthful cut and luxury features. Wigs.com expects Legend, along with Fascination, to be big sellers on the site.
Finally, the Spring 2011 line boasts a wig made with 100% human hair for the most natural look and feel. Applause is a short and modern layered style designed with a lace front, monofilament top, and in addition, a hand-knotted base for low density and a realistic appearance. Raquel Welch says about Applause, "It's not just a wig. It's like your own hair!"
The Raquel Welch brand believes that once wig wearers take a look at the latest collection of innovative and highly stylish wigs, they will see why the Spring 2011 line is all about glamour and why the brand calls this collection "sexier, sassier and easier." Viewers can discover the 7 new wig styles of the Raquel Welch Spring 2011 Collection at Wigs.com today.
About Wigs.com
Wigs.com is the leading hair shopping network building its trusted name for 15 years by partnering with Celebrity lines such as Raquel Welch, Jessica Simpson, Vivica A. Fox, Kathy Ireland, Beverly Johnson, and many others which has helped bring celebrity-inspired styles to millions of customers looking for the perfect hair solution. Only the best in wigs, hair extensions, hair pieces, care products and accessories are represented on the site. The co mpany has separated itself from the competition in the expertise and education offered to the public. Over the years, Wigs.com has established its name as the best source for alternative hair and related products.
###