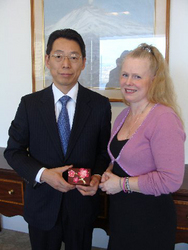 Gail designs and fabricates custom awards...Her unique creative designs have become a core element of our tradition as she can translate any sketchy vision into an artful masterpiece. Thomas Mann, Executive Director, The Pawtucket Foundation
Pawtucket, RI (PRWEB) April 4, 2011
The celebration of the blossoming cherry blossom trees is a tradition started in Japan that has carried over to the U.S. as a celebration marking the beginning of spring. Historically, the first cherry blossom trees were brought over as a peace offering to the United States from Japan in 1912. While the timing of the annual cherry blossom festival is somewhat inopportune in the wake of current events, perhaps it provides the perfect silver lining in this challenging time. The effects of the catastrophe are being felt in the U.S. as well, and many organizations are rallying resources together to help turn the cherry blossom festivities into a fundraising opportunity for the relief efforts being made overseas.
Just five days after the earthquake in Japan, Gail Ahlers of Ahlers Designs had the opportunity to go to the Japanese Consulate with Bob Billington, Sunny Ng and Loius Yip. In honor of the meeting Gail was commissioned by Bob Billington to design a gift for Takeshi Hikihara to symbolize the Blackstone Valley Tourism Council's solidarity and support during this international crisis. The case was accompanied by the following message:
"This box combines wood, 24k gold leaf and recycled metal. Each flower is hand formed and painted to resemble a genuine cherry blossom. At the center of each handcrafted flower is a cultured pearl. The pearl represents the beauty that can manifest from difficult and irritating situations."
The gift was well received, reaffirming the fundamental belief at Ahlers Designs, that meaningful gifts matter. Ahlers Designs is nationally certified woman owned small business through the Women's Business Enterprise National Council, WBENC. She is also certified as a minority business. You can learn more about Ahlers Designs custom design work at AhlersDesigns.com.
During the meeting, the attendees discussed designing a fundraiser to support the cherry blossom festival and extended an invitation to the consulate to this year's festival in Pawtucket. This year Rhode Island will celebrate its second annual cherry blossom festival on May 21st in downtown Pawtucket. To learn more about Rhode Island's Cherry Blossom Festival, visit http://www.richerryblossomfestival.com/.
Last year Loius Yip donated 65 cherry trees to the City of Pawtucket. The Pawtucket Foundation awarded him with an award designed by Ahlers Designs that emphasized the theme of his gift. Pawtucket is committed to planting more trees to help beautify the community in the years to come. Ahlers Designs was again commissioned this year to design the Pawtucket Foundations annual awards and continued with the Cherry Blossom theme in the design. The award incorporates elements of historic reclaimed lumber, recycled aluminum and laser cut steel. Each cherry blossom flower is hand crafted out of recycled soda cans and then hand painted to embody the lovely blossoms. Ahlers Designs has met with the organizers of the National Cherry Blossom Festival and looks forward to doing cherry blossom inspired work on a national level.
# # #