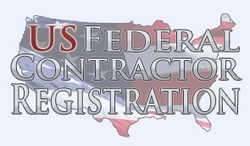 Saint Petersburg, FL (PRWEB) April 6, 2011
Thanks to US Federal Contractor Registration's help, ETS, Inc. quickly completed their CCR and ORCA registration and was subsequently awarded a government contract.
The American Recovery and Reinvestment Act and the Small Business Set-Aside Program have inspired many struggling small businesses to seek steady revenue through government contracting. Working with the federal government can often give a business the cash flow and oxygen it needs for renewed growth. One of the biggest obstacles standing in their way is the registration required to be eligible for federal contracts.
Current regulations require that businesses have a DUNS number and complete CCR and ORCA registration before they can be awarded a contract or receive payment for work performed for a contract. In some cases registration is simple; however for many businesses completing registration can become a nightmare. Even what seems like a simple renewal can become troublesome if changes need to be made.
Colleen Nabhan, President of ETS, Inc., experienced just such difficulty as she was trying to update and renew her company's CCR registration. The registration was out of date and some of the data in their previous registration was incorrect. In particular, Colleen needed her registration to reflect ETS, Inc.'s status as a woman owned small business in order to qualify for corresponding set-aside contracts.
Colleen entrusted her CCR renewal to US Federal Contractor Registration. Her assigned case manager quickly guided Colleen through the process, making the necessary corrections. "Their staff was timely and thoughtful about making sure they kept me informed of their progress," Colleen remarked about her experience with US Federal Contractor Registration. Thanks to her case manager's expertise and knowledge of government contracting rules and regulations, what might have taken Colleen weeks or even months to work out was completed in just 3 days.
This expediency is just one reason why many businesses turn to a third party to help them complete their CCR and ORCA registration. Just learning the rules and regulations necessary to properly complete the registration process can take 20 hours or more. Mistakes can be costly, not only in time and money. Misrepresentation can result in legal action being taken against a business, so it is important that registration be accurate and complete. For many business owners, taking the time necessary to complete registration on their own is simply not an option. Trusting an experienced and qualified company like US Federal Contractor Registration to file their CCR and ORCA registration on their behalf is an attractive option to companies wishing to do business with the federal government without sacrificing so much time, money and energy just to get registered.
Getting her registration completed quickly and easily was not the only benefit Colleen received by working with US Federal Contractor Registration. When she was contacted a few months later by US Federal Contractor Registration to follow up on her registration, Colleen was happy to report that "Within a month of having our ORCA listing updated we received a call to bid on a job that we secured."
If there's any question whether the benefits and rewards from government contracting is worth the investment, check out this video from the Small Business Administration. In this video Joseph Jordan, Associate Administrator with the SBA's Office of Government Contracting and Business Development discusses how government contracting can help your business grow and what strategies are effective in pursuing federal contracts. Following this advice and utilizing the right tools can help a struggling small business find success in the federal contracting market. Services such as US Federal Contractor Registration can help inexperienced business owners find and use these resources successfully.
ETS, Inc. is now enrolled in the Government Marketing program with US Federal Contractor Registration, and they are confident this will lead to even more work coming her way in the future. All in all, Colleen considers her payment for services to US Federal Contractor Registration "money well spent".
###