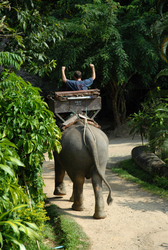 Inspirational! Life change sounds like an overpromise but its not A once in a lifetime opportunity to find new direction Bob, Toronto " More effective than I dared hoped, like taking a hoover to the dust in my brain" Dan Davies, Esquire Magazin
(PRWeb UK) April 2, 2011
The much acclaimed Life Change People launch new Change Holiday packages for Spring 2011
New Life Change Holidays in Chiang Mai for Spring and Summer
The Life Change People have proved time and again that Change Holidays work! Check out the website; for stories written by people who discovered that they really could and did, manage their fears and realise their potential, within 7 days…to make real and lasting changes in their lives, with The Life Change People programme and support package.
Every Change Holiday includes: full clinical personality profile, equivalent of 4 months weekly therapy/ life coaching, 3 months follow up online support, 2 private tours and a Spa voucher; airport transfers plus 7 nights including breakfast in 5* Puripunn Baby Grand Boutique Hotel...or other choices.
All Change Holidays are tailor made with a choice of activities including challenging adventures, spa and wellness treatments, cultural tours, cookery and yoga to add to the basic package described above.
Invitation for journalists
One 7 night Change Holiday = 4 months of weekly therapy or life coaching as part of an unforgettable holiday. Do the maths….or better still, take advantage of this annual invitation for one or two, (at the most) journalists to undertake a Change Holiday themselves and write about the results. More information, plus stories from previous brave writers, on the Life Change People website.
Meanwhile…..here are new offerings from The Life Change People, created in partnership with Puripunn Baby Grand Boutique Hotel:
Look Good Feel Good
For those who want internal changes, made during their Change Holiday to be reflected on the outside too.

Stay at the Puripunn Baby Grand Boutique hotel, the most beautiful and welcoming hotel in Chiang Mai, where you will be treated as an honoured guest
Change Programme including a full Personality Profile and three months follow up online support.
Menu of Health, Beauty and Wellness options including; Full Health Check with detailed report, teeth cleaning, Ayurvedic Detox treatment package, Hair waxing, Japanese facial, Thai massage/Aroma massage at the Puripunn Spa, manicure/pedicure and many more.
Plus; Puripunn High Tea and a private cycling tour through the countryside including a very special lunch….or for those who prefer a more restful experience, choose a private sightseeing trip by car.
In room welcome gift pack included
As well as offering the current Couples Change Holiday for those with relationship problems, The Life Change People now present a new option.......
Relationship Road Test
For couples wanting to make important decisions about their joint future…family, career changes, location.
Couples who want to improve communication and therefore quality of life together.
Couples reaching a milestone….anniversary perhaps…where it feels important to review both your past and individual and joint goals for the future.
Couples about to include a third person in their life together Having a child can feel like a challenge as well as a joy.
Alongside the Exploration and Change Programme. You will be offered a menu of options, to include:

Two person massage
Puripunn High Tea for two
Special meal for two, served in room or on your balcony….with a menu designed to order
Hot air balloon ride for two people or a cycle tour for two with a special picnic in the countryside and a further choice of sightseeing tours.
In room welcome gift pack included
Some new add ons…
All Change Holidays include a Tasting Tour of a local market, to experience the delights of Northern Thai cuisine. Now it's possible to take this a step further by joining The Life Change People for lunch! Experience cafes and food stalls, never found by most visitors but much loved by those who live here. You won't find these places in a guide book, and are unlikely to understand the menu, if there is one…but once tasted, these hidden treasures are never forgotten.
Celebrate…your birthday, anniversary or planning any kind of surprise during a stay at Puripunn. Khun Koy, one of the hotel owners has an unrivalled sense of how to make an occasion special.
She has created amazing parties, filled a room with flowers and candles for someone intending to propose……and will consider anything that will make a guest feel special and happy.
Completely tailor made to individual requirement.
# # #