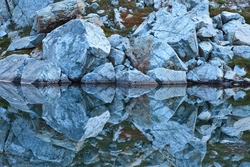 We are extremely excited to partner with GILT on this promotion to offer amazing images to customers at a fantastic price
Franklin Lakes, NJ (PRWEB) April 4, 2011
PrintedArt (http://www.printedart.com) today announced its first partnership sale with GILT, a membership-based company that conducts 36-hour online "flash sales", during which time members will receive a 25 percent discount on a select number of PrintedArt items. The sale starts on April 13 at 9pm, will feature the work of Seattle-based photographer Lee Rentz.
PrintedArt will offer 28 images by the esteemed artist, which are available in three different sizes, and mounted on aluminum dibond with an acrylic overlay. The artwork on sale includes Lee's most notable artwork including his Forest Impression series and his Water Color work.
"We are extremely excited to partner with GILT on this promotion to offer amazing art to customers at a fantastic price," said Klaus Sonnenleiter, president of PrintedArt. "This will give our artists great exposure and our customers an unprecedented opportunity."
Lee Rentz has been a full-time fine art photographer since 1990, following a career in natural resources in which he worked for the National Park Service and later directed one of the nation's leading nature centers. His work has appeared in National Geographic, US News & World Report, Disney Family Fun and many other magazines, books, calendars and electronic media. His fine art photography is owned by thousands of individual and corporate collectors.
About PrintedArt
PrintedArt, http://www.printedart.com is a web-based fine art photography collection, hand-selected by our experienced staff of curators who have created a highly selective gallery for the home decor and hospitality markets.
Every image in the collection is sold in a limited edition and produced in a modern gallery-grade display format mounted either on aluminum dibond and finished with acrylic, printed on canvas, or as fine art prints on archival paper for custom framing.
The PrintedArt PhotoLab allows customers to print their own images in the same professional quality as our fine art collection.
For additional information, please contact PrintedArt at info(at)printedart(dot)com or at +1 201 301 9113.
About Gilt Groupe, Inc.
Gilt Groupe, http://www.gilt.com, is an innovative online shopping destination offering its 3.5 million members special access to the most inspiring merchandise and experiences every day, many at insider prices. Gilt continually searches the world for the most coveted brands, including fashion for women, men and children, home décor, hotels and travel experiences on every continent, and unique activities in a growing list of cities and destinations. We believe that every day is an opportunity to inspire and be inspired.
# # #