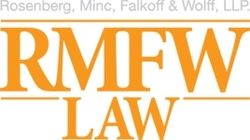 RMFW provides free professional case evaluations and free confidential consultations to potential clients who have been injured through the negligence of another
(PRWEB) April 5, 2011
Rosenberg, Minc, Falkoff, & Wolff, LLP Launching "Guess the Verdict" Contest. Support Your Favorite Charity and Win an iPad2 by Guessing Personal Injury and Medical Malpractice Payouts
The contest takes the form of a description of an actual personal injury or medical malpractice case and asks the contestant to guess the amount of the settlement or verdict. The closest guess to the settlement amount wins the contest after sixty days. A purchase or payment does not increase chances of winning. The contest is open to all US citizens above the age of majority in their state.
Rosenberg, Minc, Falkoff & Wolff, LLP (RMFW) is the premier New York personal injury and medical malpractice law firm with offices located throughout NYC. Founded in 1922 they are responsible for hundreds of millions of dollars of settlements for their clients and have had success with a variety of different accidental injury cases while proudly serving the New York community. Drawing on years of experience and an elite team of doctors, lawyers, and engineers RMFW provides free professional case evaluations and free confidential consultations to potential clients who have been injured through the negligence of another. Settlements in excess of $30 million have been reached for clients in the greater New York area, and at RMFW there is no fee unless they win your case.
Personal injury law relates to civil lawsuits pertaining to bodily or mental injury to a person, and has been practiced by RMFW in New York since the 1920s. They fight for the maximum settlement and are free to the client if they do not produce a recovery settlement.
Medical malpractice refers to professional negligence by a health care provider and is a particularly complicated area of the law that requires a lawyer specializing in that type of case. RMFW has medical experts at their disposal to help in evaluating and reaching a settlement in New York medical malpractice cases, and has a proven track record of delivering justice to the victims of this negligence.
The New York personal injury attorneys of Rosenberg, Minc, Falkoff, & Wolff, LLP are all experienced trial lawyers who have graduated from some of the most prestigious universities in the United States. They have years of experience with personal injury and medical malpractice and are known for compassion and aggressive advocacy for clients.
###