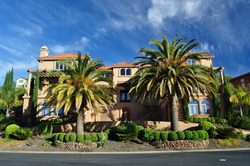 Rocklin, CA (PRWEB) April 4, 2011
PlacerCountyHomesandLand.com, a website that provides frequent updates of foreclosures for sale and recent sales activity in Placer County, has reported via its blog that former Sacramento King and current Houston Rocket Kevin Martin has lost his Rocklin, CA home to foreclosure.
It was reported in October that Martin was attempting to sell his Rocklin, CA home via short sale in the Sacramento Bee.
Public records gathered from Core Logic's Realist service show that Martin's home located in the gated Whitney Oaks neighborhood was foreclosed on by Aurora Loan Service Corporation on March 28th for a sale price of $1,619,534..
Based on Metrolist MLS records, the property had been listed in "Short Sale Contingent" status with an asking price of $941,000 as recently as March 23rd. That status indicates that Martin had accepted an offer from a buyer and was actively attempting to get his lender to accept a short payoff.
Local real estate broker and owner of PlacerCountyHomesandLand.com Patrick Hake of RE/MAX Gold wrote, "Had his lender accepted the short sale, they stood to lose approximately $611,000 on the original $1,552,000 first loan, not counting any commissions, missed payments or other fees. What they will lose now will be determined by what the home can be sold for as a bank owned property. Because the loan was a purchase money loan, it is likely that Aurora will have no recourse against Martin."
###