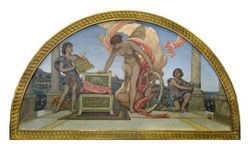 New Haven CT (PRWEB) April 4, 2011
The Yale University Art Gallery has reframed the 31" X 59" lunette Goddess Fortuna Stay With Us painted by Elihu Vedder. The lunette is one part of an extraordinary group of thirty-three murals by artists Harry Siddons Mowbray, Edwin Blashfield and Vedder commissioned by Collis P. Huntington and his wife Arabella to adorn their Fifth Avenue mansion, the site where Tiffany's now stands. When the mansion was demolished in 1925 the murals were given to Yale as a gift where they have been rolled up in storage due to space limitations. Happily, the murals are now undergoing complete conservation treatment and will play a prominent role in the Art Gallery's newly renovated spaces for American Art set to open in late 2012-early 2013.
The lunette was installed as a large overmantel in the dining room and had no independent frame. Drawing on motifs Vedder used in his ceiling panel The Abundance of the Days of the Week, Eli Wilner & Company designed and created a unique carved and gilded frame that employs a pattern of paired ribbons flowing in interlaced curves around a series of circular spaces known as a 'guilloche'.
About Eli Wilner & Company
Recognized as the foremost worldwide authority on antique frames, and founded in 1983,Eli Wilner & Company specializes in American and European frames from the 17th-through mid-20th centuries. Clients include fine art collectors, major art and historical institutions as well as The White House, where he has created 28 frames for its collection.
With an atelier composed of a team of thirty highly skilled artisans, including 15 frame conservators, and over 10,000 custom framing projects completed to date, Eli Wilner & Company takes pride in each project. Every frame is handcrafted to not only reflect the time in which the painting was created, but also to best reflect the framing choices known to be made by the artists themselves.
http://www.eliwilner.com
About Yale University Art Gallery
The mission of the Yale University Art Gallery is to encourage appreciation and understanding of art and its role in society through direct engagement with original works of art. The Gallery stimulates active learning about art and the creative process through research, teaching, and dialogue among communities of Yale students, faculty, artists, scholars, alumni, and the wider public. The Gallery organizes exhibitions and educational programs to offer enjoyment and encourage inquiry, while building and maintaining its collections in trust for future generations.
All media inquiries please contact
Glenn Zagoren
CEO
The Zagoren Collective, LLC
Branding, Marketing, Advertising
646-355-0848
ceo(at)zagoren(dot)com
http://www.zagoren.com
###