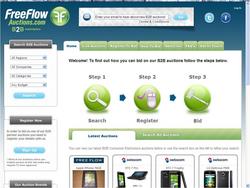 "Helping buyers actually benefits our sellers, and that's who we work for." -FreeFlow CEO Alan Scroope
San Jose, California (PRWEB) April 5, 2011 –
FreeFlow, the world's leading provider of alternative channel solutions for at-risk consumer electronics inventory, today announced the release of its new buyer portal at http://www.FreeFlowAuctions.com, increasing visibility of available inventory and streamlining the purchasing process for global wholesale electronics buyers. The new buyer gateway complements the company's award-winning technology and services for sellers that include market research and pricing advisory, site merchandising, demand generation and buyer registration, customer support, logistics support and financial settlement.
With the new online portal, buyers can register once and gain access to any or all of FreeFlow's 30-plus branded wholesale consumer electronics private marketplaces listing manufacturers' surplus stock. Filtered browsing allows buyers to select by brand, by global region, by category or by their budget. Thumbnails of all products currently on auction across all seller marketplaces are showcased on the portal, giving buyers single-click access across brands.
"Today's secondary marketplace buyers are running multi-million dollar businesses in online retail and they're seeking the best CE brands. We have the right brands at the right price point, but we needed to make it easy for buyers to search, browse and purchase across multiple marketplaces," observed Alan Scroope, FreeFlow CEO. "At the end of the day, helping buyers actually benefits our sellers, and that's who we work for."
In the new release sellers retain their ability to partition the buying community to maintain channel control, a key differentiator for FreeFlow. For example, a seller may restrict product to be sold only in North America, or vice versa – do not sell in North America. Or they may provide a "do not sell to" list of companies and those companies will be screened in the registration process.
"Today's release is in response to buying trends we've observed over the past year, that is, buyers registering on more than one and in some cases all of our branded marketplaces," Scroope elaborated. "We needed to make bidding on FreeFlow auctions a highly productive and efficient experience for this class of global buyer. This release achieves that objective while extending the market reach of our sellers."
FreeFlow has proven to be a trusted partner for consumer electronics companies by building secure alternative channels for selling at-risk inventory. Slow-moving, aging or end-of-life finished goods as well as consumer returns inventory sold as-is or refurbished is a multi-million dollar market for FreeFlow's Global 1000 customers. The company's branded and anonymous private marketplaces allow stock to be sold at auction, fixed price, or minimum price. Auction and member privilege dynamics are deployed to improve bidding performance, resulting in higher financial recovery. With market and pricing analysis, integrated performance metrics and end-to-end business support services, FreeFlow provides low-cost, secure, high recovery alternative channel solutions for excess and at-risk inventory in all stages of the product lifecycle.
###