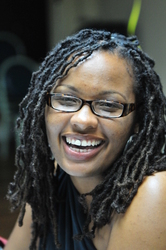 "I waved at them as if I knew them. I felt at home right away, like I had arrived where I was supposed to be, even though I had never been there yet,"
Hollywood, FL (PRWEB) April 5, 2011
When Olivia Williams talks about Dominica it's sheer superlatives and adjectives. Ooh's and aah's followed by words like "amazing", "impressive" and "wonderful". Olivia's genuine love for Dominica and the excitement that fills her every time she talks about the island give the superlatives and adjectives a certain sincerity and honesty that makes you want to visit. She poured her connection to the island into a book.
"Poetic Island" is a collection of short stories from her life on the Island; it was released on January 4, 2011 with an Official Book Launching event in Roseau, Dominica. "Dominica is a diamond in the rough and with my stories I give readers a personal perspective to the island. This is not a tourist guide, but a perspective by someone who truly loves the island. When someone recommends that a visitor go to Victoria Falls, my book tells them about the people whose land you have to cross to get there. I pinpoint those personal things, to bring a personal feel to the island," she says.
Dominica literally took possession of Florida-born Olivia from the first time she visited this tiny speck of island in the Eastern Caribbean. Mountains and valleys are dominated by thick green vegetation, interrupted by banana and plantain farms and the occasional village. The simplicity was what struck Olivia.
"It was in the summer of 1999, when I went on study abroad to the Caribbean. As we approached the island, and I saw the mountains, plantain trees and all green, I felt this funny feeling creeping over me. It was unbelievable," she recalls.
It was around 6 in the evening and the sun was about to set. Olivia remembers driving from the airport in a taxi, past a group of fishermen who had just returned from the sea, holding up their fish for potential buyers to see. "I waved at them as if I knew them. I felt at home right away, like I had arrived where I was supposed to be, even though I had never been there yet," she said. She recalls the night serenading her as she sat in the front of the taxi bus next to the driver. "I insisted that I sat in the front, because I wanted to take it all up in me. The road was cramp and small.
"Trees were whispering to me, welcoming me to the island. There was green spread all around me. I'm from Florida and I remember green and plants from youth, but this was like nothing I had ever seen before. I didn't know a thing about Dominica, but when got there, I was blown away by the beauty, the serenity. I felt like I was coming home for the first time ever. The airport small and homely made me feel welcome," she said. An adventure that would leave a profound impression on her and would drag her back to the island many, many times.
"My first day was exciting and at times scary. I was feeling rejuvenated. My spirit was coming alive. I had found that place where my spirit was coming to life. I was 20 and I was experiencing senses like serenity, peace, freshness and taste."
She returned to the US, finished her degree in Industrial Engineering and could have been well on her way to that corporate job … if it weren't for Dominica. "I knew then that being that corporate woman in America wouldn't make me happy," she said. When one of her mentors recommended she join the Peace Corps and she got accepted with the option of being stationed somewhere in the Eastern Caribbean for a year, she knew right off where she was going.
She spent a year in Dominica as a Peace Corps volunteer, working with Government, helping out with tourism projects, soaking up the island. "I worked three days and got three days off every week and did that for a year. But when I came back to the US, I felt like I was in a concrete jungle, with huge buildings, roads so big, and people moved so fast. No-body knew you, not even your neighbors. I now had a habit of saying good morning to every-body, because that culture got instilled in me. I missed just sit-ting on my porch, writing, and watching the mountains. The walls were closing in on me," she said.
In the summer of 2008, she took a break from her Master's studies, got on an airplane to Dominica and chose not to return to the US. "I was sup-posed to be there for two weeks, but I stayed for three months. I was studying then and I was still searching for what resonated in me. But I knew that this place makes me feel good so I stayed, worked as a grant writer did a radio program "hour of power" for the community radio station there and also did some work for a real estate company. That's how I made some money."
The online radio program went on for a year which brought about the book idea. "I wanted to put together a book on how the power of this place transformed me and how it can transform anybody. I saw the opportunity in Dominica to be open and honest and stay connected to the natural elements. Life is natural we have made it man made and now we're frustrated and confused, because we have all of these gadgets and extra stuff that distract us from the essence of being, the essence of connecting with people, connecting with the life source. That is what my book is about," she says. "We should connect to life; get back to simplicity."
Olivia says she hopes people take from the book that indepth cultural perspective that she found in Dominica. "This is not just a tourist guide book. This book is about being guided to people. About having the opportunity to not just take a picture of a place, but to be fully encompassed in the place. To look for the gems in life and the little things that add value. I hope it helps readers do that," she says.
She also hopes it pushes people to give back to the communities they visit. "Here in the US, we have so many resources. I believe that if you go to a country where people don't have all you have, you have a moral obligation to give back. Give back simple things, like donating a book or leaving some of your knowledge with the people you come in contact with. Or taking your trash back with you because many of these islands don't have trash recycling plants. I gave back and it made me feel great!"
Poetic Island can be ordered through http://www.PoeticIsland.com or http://www.Amazon.com.
###