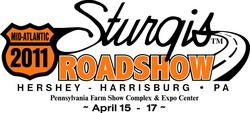 "We are proud to be part of this great event and looking forward to more shows in the future" Russ Brown Motorcycle Attorney
Harrisburg, PA (PRWEB) April 5, 2011
In an exciting new expansion on the traditional Sturgis Rally, a pair of Sturgis icons has teamed up with other motorcycling heavyweights, including the Eastern Regional Harley-Davidson Dealers Association (EHDDA), to take the spectacle of Sturgis "on the road." The 2011 Sturgis Road Show will visit Harrisburg, Pennsylvania on April 15th through 17th at the Pennsylvania Farm Show Complex & Expo Center. Day passes start at $10, and weekend passes begin at $35. Tickets and more information are available at SturgisRoadshow.com.
The idea of the Sturgis Road Show is to bring the attractions of the legendary Sturgis Rally to bikers during a national tour aimed at motorcycle-lovers everywhere. For those bikers who have been unable to attend the annual South Dakota event itself, which has long been held during the first full week in August, in Sturgis, South Dakota, this road show offers them a once in a lifetime experience.
The support for the Sturgis Road Show is impressive: The anchor promoter is the Buffalo Chip, the traditional rally's leading provider of music, entertainment and hospitality. This year's music lineup features well-known rockers Tesla and Styx along with the perennial favorites Bachman Turner. In addition, there will be plenty of other sights and activities to enjoy, including:
· Motorcycle-themed art
· Vintage motorcycles and memorabilia
· Beautiful bikes custom-built by master bike builder Dave Perewitz and others
· Motorcycle accessories and fashions
· Motorcycle education and training seminars
· Top tattoo artists
· Good food
· And more
The sponsors of the Sturgis Road Show include such forward-thinking corporations and professionals as Jack Daniel's, Geico, Custom Chrome, Hollywood Casino at Penn National Race Course, and Russ Brown Motorcycle Attorneys, the motorcycle lawyers who created the infamous BAM Benefits Card that offers free roadside and legal assistance to motorcyclists 24 hours a day, 7 days a week. The BAM booth will be set up in the Expo Center for all those motorcyclists wishing to get their free benefits card. Russ Brown motorcycle attorneys will also be on hand to offer free legal advice for those motorcyclists who has a legal question.
###