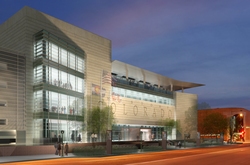 History Colorado is undergoing a major transformation to meet the needs and expectations of a savvy, 21st century museum-going audience.
Denver, CO (PRWEB) April 5, 2011
History Colorado has selected Denver-based K-M Concessions, Inc. to manage the culinary and retail programs of the new History Colorado Center in Denver, as well as support its guest services and facility operations programs such as admissions, janitorial and grounds maintenance.
The History Colorado Center, a major museum and tourist destination, is now under construction at 12th Avenue and Broadway in Denver. It is scheduled to open to the public in Spring 2012.
K-M Concessions responded to a competitive Request for Proposals (RFP) in October 2010, which was vetted through the Colorado State procurement process.
K-M Concessions manages retail, culinary and other service departments for a variety of cultural destinations across the United States, including such zoos like the Denver Zoo, botanical gardens, museums, aquariums and more. It has a strong reputation in the industry for its culinary and retail expertise and delivering outstanding customer service.
"History Colorado is undergoing a major transformation to meet the needs and expectations of a savvy, 21st century museum-going audience. We were looking for a partner that reflected this transformation with innovative ideas and a true understanding of how to best serve a diverse set of audiences," said Ed Nichols, President and CEO of History Colorado. "After going through a rigorous RFP process, K-M Concessions rose to the top. We are so pleased to have them join us as partners in what is truly an exciting new era for our 130-year-old institution."
"We are extremely pleased with how well our values align with the vision and values of History Colorado," said Kevin McNicholas, President and CEO of K-M Concessions, Inc. "This partnership is built on the understanding that a guest's experience plays a major role in determining the overall perception of the attraction. Our focus will be offering an extremely positive guest experience that complements History Colorado's incredible new exhibitions and educational programs that are planned for the History Colorado Center."
McNicholas noted that a key operating strategy is to showcase the company's commitment to sustainable, eco-friendly solutions in every aspect of its operations, as well as the implementation of a fully integrated point-of-sale solution that shares data among foodservice, retail, admissions, membership and more. "Sharing this data across departments will enable both partners to make more intelligent decisions on guest promotions, menus and educational merchandise while enhancing overall communication," said McNicholas.
"K-M Concessions brought original ideas to the table, the team has a passion for Colorado and a commitment to promoting and selling Colorado made and sustainable products, along with a proven track record that we expect will elevate our visitor's overall experience to the History Colorado Center," said W. Bart Berger, Board Chairman of History Colorado.
The History Colorado Center will be a dynamic new tourist destination for Colorado and an economic catalyst that supports statewide heritage tourism, archaeology and historic preservation, as well as a thought-provoking center for civic dialogue in an environment that encourages an inspirational journey into the future through experiencing the past. It will house collections, new exhibitions, education/public programs, the Office of Archaeology and Historic Preservation, the State Historical Fund, the Stephen H. Hart Research Library, and support History Colorado's network of statewide museums, as well as other functions. Scheduled to open in 2012, visitors of all ages to the History Colorado Center will experience new exhibitions that blend technology, artifacts and immersive environments that shape compelling stories about our state.
About K-M Concessions, Inc.
Headquartered in Denver, K-M Concessions, Inc., and its sister company Service Systems Associates manages retail and culinary departments at museums, botanic gardens, zoos and aquariums in the United States, including the Denver, San Francisco, Los Angeles and Dallas Zoos, Pittsburgh Zoo and PPG Aquarium, Tampa's Museum of Science and Industry and Monterey Bay Aquarium. The company is a national leader in guest service operations for cultural attractions, serving over 17 million guests annually. For more information, please visit the website at http://www.KMSSA.com.
About History Colorado
Established in 1879, History Colorado (formerly known as the Colorado Historical Society) offers the public access to cultural and heritage resources of Colorado, including statewide museums and special programs for individuals and families, collection stewardship of Colorado's historic treasures, educational resources for schools, students and teachers, services related to preservation, archaeology and history, and a research library. A new headquarters and museum—the History Colorado Center—is currently under construction at 12th and Broadway in Denver's Golden Triangle Museum District. History Colorado's temporary address is 1560 Broadway, suite 400, Denver, CO 80202. Find History Colorado online at http://www.facebook.com/history.colorado and http://www.historycolorado.org, or call (303) 866-3682.
###