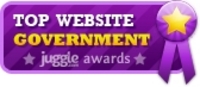 Scarcity of resources is always the challenge in government and in life in general.
Belleville, IL (PRWEB) April 6, 2011
AuburnAlabama.org has been recognized as a 2011 Top Local Government Website Award recipient by online encyclopedia and reference resource Juggle.com for its e-government and communication initiatives.
This year's recipients applied innovative web technology in order to provide citizens with greater access to government information and services. AuburnAlabama.org is one of several top-notch Local Government portals embracing the commitment to the community.
According to David Dorton, Director of Public Affairs for the City of Auburn, "We want all of our e-gov initiatives to enhance the transparency and openness of City government by providing as much information as possible about City government. We want to enable citizens to stay well informed, and to be able to use the web site to get information as easily through the web as they can by calling or visiting City Hall."
Award finalists offer an array of features and functionality that cause them to surpass websites in their class. The Juggle.com government awards editors hand-selected this year's Top Local Government Award recipients by evaluating a variety of site features and functionality, including usability, timely content, access to e- government services and technological innovation.
"Scarcity of resources is always the challenge in government and in life in general. Websites take time and personnel to maintain, both on the technical and content sides. I think the key is to have the right team of people to make each piece of the puzzle fit into place," noted Dorton.
Award recipients receive a feature page on Juggle.com that includes an interview with one of the individuals responsible for maintaining or managing each website. Belleville, Illinois-based Juggle.com is an online encyclopedia and reference resource featuring facts, articles, images, biographies, and statistics covering thousands of popular topics. For more information on Juggle and other topics, or to view Auburn's feature, visit http://www.juggle.com.
###