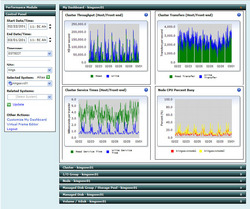 Galileo helped us move away from manual data collection and analysis, now viewing storage performance metrics instantly for any time period
Malvern, PA (PRWEB) April 5, 2011
The ATS Group today announced the availability of an IBM® SVC and Storwize® V7000 Storage Module for its cloud-based infrastructure charting tool, Galileo Performance Explorer™ (Galileo PE™). Everything Galileo PE does to quickly improve server utilization and capacity planning of expensive IT infrastructure now applies to storage management systems as well, allowing organizations to move away from the time and cost of on-site storage resource management (SRM) tools.
The SVC and Storwize V7000 module for Galileo PE does not require onsite data or hardware, just an intuitive web interface and an agent that installs within minutes. Galileo PE also supports IBM AIX® and Linux® server operating systems.
Galileo PE simplifies performance analysis of hardware and virtualization environments, including servers and storage systems. Built on a SaaS architecture, Galileo PE automates collection of infrastructure performance data and provides quick graphical reporting through a web interface. Dashboards with interactive drilldown views of infrastructure performance, which can be customized by users for individual needs, are available on demand, empowering decision makers from C-level management to IT administrators.
"Galileo helped us move away from manual data collection and analysis, now viewing storage performance metrics instantly for any time period," explains Mohinder Singh, Director at Kings County Hospital Center in Brooklyn, NY. "We're able to expose the true facts about disk service times and IOPS to know what response times are needed for applications to run properly and if requirements are met."
"Many organizations carry onsite SRM tools with limited granularity of information, and that requires a server, software licensing, upgrades, and typically a dedicated IT resource," said Tim Conley, co-founder and Principal Partner at the ATS Group. "Our storage module replaces all that with budget-friendly, on-demand cloud access."
Business and IT users can sign up for a free 60-day trial of Galileo PE using their own data.
About Galileo Performance Explorer™
Galileo PE™ is a cloud-based infrastructure charting tool for ensuring optimal performance of physical and virtual servers and storage. Built on an innovative SaaS architecture by ATS Group, Galileo PE installs in minutes without onsite data or hardware requirements. Automatic collection of real-time data and quick, easy, graphical reporting via an intuitive web interface improve utilization and capacity planning of costly IT infrastructure. Galileo PE currently supports AIX®, Linux®, and IBM® SVC and Storewize® V7000. Subscription includes anywhere, anytime access to custom dashboards with full drilldown into data details. Galileo PE is used by mid-size to Fortune 100 companies, including leaders in such security-sensitive industries as financial services, healthcare and government services. For a free trial using your own data, visit http://www.GalileoSuite.com.
About ATS Group
The ATS Group (http://www.theATSgroup.com), an IBM® Premier Business Partner and operator of the Philadelphia-area IBM® Innovation Center, maximizes your return on investment in core infrastructure technologies. We support a broad range of server, storage and operating systems, including AIX®, Linux® and Windows®. Our expert services cover infrastructure design, implementations, system upgrades, backup and recovery, performance assessments, performance charting for infrastructure utilization and capacity planning, and system administration. Capabilities extend to PowerVM LPAR, SAN, high availability, performance tuning, disaster recovery and other key areas of infrastructure evolution. ATS is strictly a service organization without income from product sales, maintenance or referral fees. Our purpose is to fill the role of a true, independent, objective, solutions provider.
###