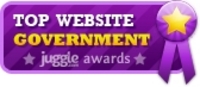 Our goal is to create government transparency for our constituents and provide a forum for them to provide input.
Belleville, IL (PRWEB) April 6, 2011
Ketchikan, AK, US has been recognized as a 2011 Top Local Government Website Award recipient by online encyclopedia and reference resource Juggle.com for creating a culture of innovation for local businesses and for creating advocacy opportunities for community members.
This year's recipients applied innovative web technology in order to stimulate local businesses and provide access to e-government services. Dedicated to the creation of a powerful community, City.Ketchikan.AK.US is one of several Local Government portals offering outstanding online resources for e-government and local businesses.
According to Curtis Thomas, Information Technology Director for the City of Ketchikan, "Our goal is to create government transparency for our constituents and provide a forum for them to provide input. We have also leveraged services like eGov Link to provide on-line forms, citizen comment forms etc. We recently added Internet streaming of the City Council Meeting using the vendor Granicus."
Award finalists offer an array of features and functionality that cause them to surpass websites in their class. The Juggle.com government awards editors hand-selected this year's Top Local Government Award recipients by evaluating a variety of site features and functionality, including usability, timely content, access to e- government services and technological innovation.
"Most of our feedback is channeled through the City Council members to City management. In turn, City Management directs the IT staff to evaluate suggestions. Information Technology staff also keeps informed on trends and suggests implementing some services to City Management," noted Thomas. This constant upkeep of the site allows Ketchikan to stay up-to-date with community members.
Award recipients receive a feature page on Juggle.com that includes an interview with one of the individuals responsible for maintaining or managing each website. Belleville, Illinois-based Juggle.com is an online encyclopedia and reference resource featuring facts, articles, images, biographies, and statistics covering thousands of popular topics. For more information on Juggle and other topics, or to view Ketchikan's feature, visit http://www.juggle.com.
###