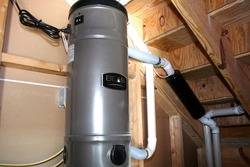 It was recommended to us that a central vacuum is a good way to increase the indoor air quality. So we did it and we love it.
Webster City, IA (PRWEB) April 6, 2011
When husband-wife builders John Plevich and Kim Foy set out to build one of central Florida's most sturdy and energy efficient homes, they were determined not to solve one issue by creating another. As a result healthy indoor air quality plays as important a role in Vision House 2011 as energy efficiency.
"Because we were building such a tight building envelope, we had to make sure we kept good control of the indoor air quality," Foy, co-owner of Southern Traditions Developers, says of the Green Builder magazine-sponsored demonstration home in Orlando's College Park neighborhood.
The 2,500 square foot main house, plus 500-square-foot guest suite over the garage were built to meet guidelines of the "Blueprint for Safety: A Stronger Shade of Green" program administered through the Federal Alliance for Safe Homes. The program promotes building homes that not only meet traditional green building guidelines and are strong enough to withstand hurricanes and other forces of nature. As a result, insulated concrete forms provide a secure shell for Vision House that also forms a thick, energy efficient thermal blanket that limits interior temperature swings.
Although Southern Traditions rarely had installed central vacuum systems in previous custom home projects, Foy says this case was different. The BEAM Serenity QS Central Vacuum System that was installed in the Vision House delivers 600 air watts of quiet cleaning power to remove all contacted dust and allergens from interior surfaces.
"With this house, we were excited to try it. In order to keep the dust down and everything, it was recommended to us that a central vacuum is a good way to increase the indoor air quality," she adds. "So we did it and we actually love it."
Since Vision House opened to the public, Foy and Plevich have sold several additional homes, all with central vacuum systems.
"We build for a lot of young families and one of the things they talk about is having really good air quality," she says. "There's so much talk about cancer and allergies and things like that, especially the moms are concerned about those types of things out of concern for their children."
Adding further to the home's appeal is its price. Foy says home dispels a widely accepted myth that green building is costly. The Vision House was built for less than $150 per square foot.
"It doesn't take a whole lot of extra money for things that are good for you," Foy says. "The Vision House really pushes the envelope and demonstrates things that you can do any time you build that don't require a lot of money."
About Electrolux Home Care Products, Inc.
Electrolux Home Care Products, Inc. (EHCP) leverages consumer-driven insight to manufacture and market innovative floor care products under its well-known Eureka and Electrolux consumer brands. The company also sells high-quality commercial products under its Sanitaire brand name and central vacuums made by its Electrolux Central Vacuum Systems division (formerly known as Beam Industries). EHCP is based in Bloomington, Ill., and is a part of The Electrolux Group. Visit http://www.electroluxusa.com, http://www.eureka.com, http://www.sanitairevac.com or http://www.beamvac.com for more information.
###