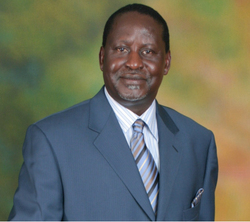 New York, NY (PRWEB) April 6, 2011
This Africa Investment Conference, co-hosted by the Government of Kenya and headlined by The Honorable Raila Odinga, Prime Minister, Republic of Kenya, will supply investors with the macro information they require about governmental, regulatory, and economic policies coupled with intensive examinations of key sector initiatives, including:
Arica and the Global Economy: Identifying the Synergies
We will assess the growing breadth and depth of synergies between Africa and the global economy. What does Africa's role within the global economy look like now and beyond?

Investing in Infrastructure: Roads, Rail, Airports, and Ports
How are public-private partnerships being used to facilitate investment in Africa's physical infrastructure? Where is the funding come from, and how is it being deployed?

Investing in Infrastructure: Energy, Power, and Information and Communication Technologies (ICT)
The region has much to highlight in terms of opportunities in the ICT, energy, and power sectors. How are current projects being financed, and what projects are slated for future development?

Building World-Class Financial Markets
What are the region's governments and regulators doing to improve their financial markets and banks? What is the status of efforts to develop a regional stock exchange?

Africa's Industrial Champions:
Sector Leaders in Health Services, Metals/Mining, and Agribusiness
Africa has historically been best known as a source for raw materials, but other sectors are starting to gain ground as global players. This panel will present several of Africa's most promising companies and assess their advantages at the global level.

Toll Roads, Commuter Rail and City, Airport Terminal, Technology City, Geothermal Project
Confirmed Speakers to Date:
International Investor Speakers:

Jay Ireland, President & Chief Executive Officer, GE Africa
Cynthia F. Steer, Managing Director, Investment Strategy, Russell Investments
Colin Coleman, Managing Director, Goldman Sachs
Walé Adeosun, Chairman, Investment Advisory Committee, New York State Common Retirement Fund
Patrick Mweheire, Chief Executive Officer, East Africa, Renaissance Capital
David E. Smart, Global Head of Sovereign & Supranational Funds, Franklin Templeton Investments
Roelof Horne, Portfolio Manager, Frontier Markets/Africa Equities, Investec Asset Management
Tanya Primiani, Investment Policy & Promotion Specialist, World Bank Group
Richard Akwei, Head of Africa Illiquid Investments, The Rohatyn Group
George Hoguet, Managing Director, Portfolio Manager and Global Investment Strategist, State Street Global Advisors
Lena Sene, Director, Deer Isle Capital, LLC
Vinode Ramgopal, Chief Executive Officer, Marco Polo Capital Markets LLC
Samuel Brew-Butler, Chairman, Cenpower
Carolyn Campbell, Managing Director and General Counsel, Emerging Capital Partners, Board Member, Finagestion
Deen Solebo, Founding Partner & Managing Director, Yellowtree Partners
Willem J. Humes, President & Chief Investment Officer, Greylock Capital Management
Chris Lloyd, Chief Executive Officer, North American Spine & Ascendant Neuro
Leslie Durschinger , Founder, Managing Director, Terra Global Capital, LLC
Stephen Hayes, President, CCA – Corporate Council on Africa
Biniam Gebre, Principal, McKinsey & Company
African Governmental Speakers:

Honorable Prof. Njuguna Ndung'u, Governor and Chairman, Central Bank of Kenya
Honorable Mwanaidi Maajar Named, Ambassador to the United States of America, United Republic of Tanzania
Honorable U. Joy Ogwu, OFR, Ambassador to the United Nations, Federal Republic of Nigeria
Ambassador Juma V. Mwapachu, Secretary General, East African Community
Mugo Kibati, Director General, Vision 2030 Delivery Secretariat, Republic of Kenya
African Corporate Speakers:

Titus Naikuni, Chief Executive Officer, Kenya Airways
John Ngumi, Director of Investment Banking Coverage, Corporate & Investment Banking Division, Standard Bank Africa, Stanbic
Kwame Parker, Director & Head, Debt Solutions & Infrastructure Finance, East Africa, Stanbic Bank
Michael Joseph, Chairman, Kenya Tourism Board, Former Chief Executive Officer, Safaricom, Ltd.
James Mwangi, Chief Executive Officer, Equity Bank
Jonathan Jackson, Managing Director, Lordship Africa
Gad J. Cohen, Partner, eleQtra Ltd, Manager of InfraCo Africa
For more information:
http://www.iiconferences.com/africa
http://twitter.com/iiforumscountry
Bryan F. Fox | Marketing Director | II Conference Division
Institutional Investor
225 Park Avenue South 7th Fl. | New York NY 10003
t: (212) 224 3926 | f: (212) 224 3802
e: bfox(at)iiconferences(dot)com | w: http://www.iiconferences.com
###