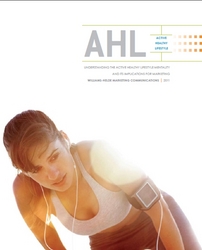 AHLs are looking for information, not for someone to tell them what to think.
Seattle, WA (PRWEB) April 5, 2011
Almost every day we hear stories about the obesity crisis. The New York Times recently published a piece on the "increase in (American) waistlines," while the Wall Street Journal ran a story proclaiming that "never have so many human mastodons bestridden the Earth." With such media focus on obesity, it can be easy to overlook the huge numbers of health-conscious, physically fit Americans.
A recent study by Williams-Helde Marketing Communications set out to uncover the attitudes and behaviors of healthy and fit Americans, dubbed Active Healthy Lifestyles (AHLs). The study showed that in addition to living an active lifestyle, AHLs are highly influential consumers, much more likely to share preferences with friends, family, colleagues, acquaintances, and even total strangers via blogs and social media. AHLs are active information seekers – heavily researching products online and in magazines before making purchasing decisions.
Key AHL Statistics

63% of AHLs are willing to pay slightly more for a product that is made by a brand they trust.
AHLs are 41% more likely to use Facebook than non-AHLs.
77% of AHLs say they buy the best.
AHLs are broken down into four key segments: Young Movers (18-25), Active Parents (25-55), Booming Boomers (45-65), and Senior Jocks (65+).
AHLs are willing to pay for the best, but only after their research has helped them define what the best is. They are not easily swayed by advertising and unsubstantiated brand promises, as they like to believe their decisions are uniquely their own. This report by Williams-Helde Marketing Communications will help marketers gain a deep understanding of the Active Healthy Lifestyle audience, which will enable brands to tailor their marketing to the unique motivators of this vast and influential group.
Click here to read the report.
###