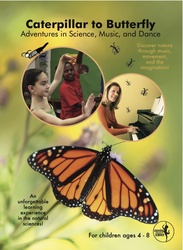 "Caterpillar to Butterfly" is a delightful blend of music, movement, art, and nature footage combining to tell the science of metamorphosis." Catherine Hughes, Science Editor, National Geographic Kids Magazine
Chevy Chase, MD (PRWEB) April 5, 2011
Educators, politicians, and parents alike criticize traditional classroom instruction for its lack of creativity and failure to develop children's higher-order thinking skills. Research shows, however, that students quickly grasp more complex and rigorous academic content when the arts are integrated into the learning process. A groundbreaking educational DVD titled, "Caterpillar to Butterfly: Adventures in Science, Music, and Dance," invites teachers, parents, and children to leave the desks behind and move creatively to perform their understanding of science.
Nationwide, all students between the ages of 4 and 8 study the lifecycle of the butterfly as a fundamental introduction to biology and life sciences. "Caterpillar to Butterfly" introduces a revolutionary way to teach this science standard. Children learn on five different levels: they learn through viewing stunning, time-lapsed nature footage; through moving their bodies as they listen to music; through drawing pictures that reveal their comprehension of science; through retelling their understanding in their own words; and through performing the butterfly life cycle.
Within the educational world, there is a lot of talk about arts-integrated instruction. But most parents and teachers have never seen what this powerful approach to teaching looks like. This DVD is the first product in the U.S. to interactively guide students through a weeklong arts-integrated learning process. Now educators can experience arts integration in action with their own students.
To view the DVD trailer go to: http://web.mac.com/marciadaft/Marcias_Site/Products.html
All children, including non-English speakers, challenged learners, and gifted students, respond powerfully to arts integrated instruction. It inspires children's creativity and deepens their comprehension.
"This approach to teaching has to power to re-invent American education," says Dr. Victoria Brown, director of The Lucy School, a national model school for arts in education. "20th century education was about memorizing facts and information. 21st century learning is about taking in information, applying it, connecting it, and then expressing your understanding in multiple, creative ways which creates a deeper, more complex, more lasting understanding of the subject."
Catherine Hughes, Science Editor at National Geographic Kids Magazine praises this DVD. "The original, creative way 'Caterpillar to Butterfly' demonstrates a lesson in wildlife biology is sure to captivate young children and stimulate the learning process. Teachers, children, and parents alike will be impressed."
This is the first in a series of arts integrated DVDs released by Marcia Daft, Founder and Artistic Director of Moving Through Science. Marcia Daft is a nationally acclaimed arts educator. The Smithsonian Institution, the John F. Kennedy Center for the Performing Arts, and hundreds of other national arts and educational organizations have presented her work for over 20 years. She spent two years developing this DVD to bring an awareness of arts integrated instruction to wider audiences. To learn more about Marcia's work, go to http://www.marciadaft.com.
###