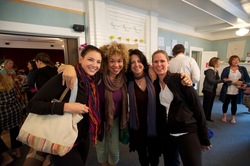 "Thank you, once again...for a wonderful, enlightening, energizing, loving, fun and yogic crib! I can't wait for next year!" - Kathy
Ojai, CA (PRWEB) April 20, 2011
Yoga, from the root "Yuj", means to join, or to connect so it's only natural that yogis like to come together. This October Lulu Bandha's will celebrate her 9th International Ojai Yoga Crib with teachers and guests coming from around the globe!
The Crib is a yoga pilgrimage. Built on the rich spiritual traditions of the Ojai Valley, the yoga sessions, meditations, and evening events take place in some of the most historically significant and sacred spots in the Valley.
The Ojai Valley is a magical mystical spot long regarded as a place of spiritual pilgrimage. In 1847, the LA Times wrote, "Ojai, is the place where people come to find the God-centers within themselves." Located in Southern California, about 90 minutes north of Los Angeles, 45 minutes southeast of Santa Barbara and worlds away from the pace of modern life.
This year's theme is "The Sky is Blue" and the noteworthy playlist of teachers includes Erich Schiffmann, Patricia Sullivan, Saul David Raye, Uma Goswami, Ganga White, Laura Tyree, Emil Wendel, Jill Miller, Gil Hedley, Tracey Rich, Jason Crandell, Elena Brower, Ravi Ravindra, Hemalayya, Sean Johnson, Ashley Turner, John Hickey, and Kira Ryder.
HOSTED BY LULU BANDHA'S
The yogis of Lulu Bandha's are the hosts. Established in March 2002, Lulu Bandha's is a community of blossoming yogis tuning into their hearts alignments.
"Relationships thrive when there is a cooperative creative expression emerging, and the holding of the Crib each year provides the container in which we find out if our yoga practices are working, " Kira Ryder, the Den Mother of Lulu Bandha's laughs. "The skills required to collectively host a large event, listen inwardly for guidance, track the details and flow with the surprises are delightfully immense. This is 'Skill in Action', one of the definitions of yoga."
OUR SHARED PRAYERS
Every year, the Crib includes an art installation. This year's piece is called, "Our Shared Prayers". Prayers are being gathered from sisters from around the globe and will be shared at this year's International Ojai Yoga Crib.
The project begins in the villages on the outskirts of Varanasi, India. Uschi Gibson of LuckyUschi works with communities of women who are empowering themselves by learning new skills.
This community of women will gather and create 3000 white prayer flags. The project is part of an existing income generating program which allows women to feed, clothe and educate their children. The Ojai Yoga Crib has been in partnership with LuckyUschi and these women for four years.
From India, the flags will be shipped to communities of women around the world. Groups of women will gather to infuse their prayers into the flags. The Prayer flags will then be mailed back to Ojai and strung for installation.
EVENT DETAILS
The International Ojai Yoga Crib begins Thursday, October 27th with Immersions and then continues through the rest of the weekend with five 2.5-hour yoga sessions, three morning meditations with Emil Wendell and Geoffrey Gordon, an Friday evening talk with Erich Schiffmann and Saturday evening kirtan with Sean Johnson and the Wild Lotus Band.
Workshop topics range from the physical practices, spiritual roots and history, philosophy and application of yoga into our daily lives.
Three types of Tickets are available. Crib Weekend + Immersion: $575. Crib Weekend: $425. Immersion Only: $200. Layaway Plans available.
THE SKINNY
International Ojai Yoga Crib
Ojai, California
Thursday, October 27. All Day Immersion.
Friday, October 28 – Sunday, October 30. Main Crib Event.
Saturday, October 29. Evening Kirtan Party with Sean Johnson and the Wild Lotus Band
For more information, please call 805.798,1700, or visit:
http://www.ojaiyogacrib.com
###