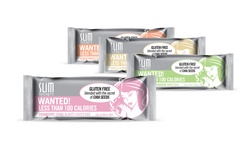 Slim Secrets Australia launches gluten free bars all under 100 calories and with chia!
(PRWEB) April 6, 2011
Slim Secrets the innovative Australian snack food company introduces gluten free Wanted! less than 100 calorie bars. They are an indulgent treat that combines protein and fibre to help fill the consumer up providing the perfect solution to snacking dilemmas! Each 28g bar contains less than 100 calories, chia seeds, just 2.3-2.5g fat, is gluten free and a source of protein and fibre. plus they're ultra-convenient to carry with you in your handbag, glove box, desk draw or gym locker – anywhere you may need to reach for a snack!
"We asked our customers what they "WANTED" in a bar and many came back and said that they would like a bar with less than 100 calories, nutritionally balanced, gluten free, no artificial colours, flavours or sweeteners and that tasted great!" explained Sharon Thurin founder and CEO of Slim Secrets." We listened and as a result our Wanted! range was born"
Available in four delicious flavours:

Peach Perfection - goodbye peaky hello peachy!;
Cranberry Choc and Nuts - nutritious and undeniably delicious!;
Apple and Cinnamon - forbidden fruit is always the most wanted!; and
Vanilla Almond - tastes gorgeous and cheekily under 100 calories.
Nutritional Benefits of Slim Secrets Wanted! Bars

Source of protein and fibre to help fill you up
All under 100 calories
-Gluten free
-No artificial colours, flavours or sweeteners

includes the benefits of chia seeds
About Slim Secrets
Slim Secrets founded in late 2005 by Sharon Thurin has become a leading company in the area of nutritious snacks in Australia and now globally.
Sharon knows the importance of healthy snacking between meals after many years working as a wellness and weight loss coach as well as setting up an anti aging clinic. She became increasingly aware of the snacking dilemmas her clients faced and has crafted each bar specifically for a certain time of the day and is the range served with a little snacking secret to keep you going.
"I noticed that many of my clients ate well at meal times, but often struggled with snacks, or alternatively were so busy during the day that they didn't eat enough and then binged at night," she said.
"As protein, fibre and a low GI are important ingredients to help you feel fuller for longer, I suggested for the busy client to try snacking on a convenient protein bar when they were hungry
"However the general opinion was they were too high in fat or too high in sugar, too expensive or tasted like cardboard and not to mention bland to look at."
So it was from here, Slim Secrets was born.
Slim Secrets was established in Melbourne in late 2005 with three snack bars being bought to the market - 5 years later they have added cookies, chips, additional bars, protein shots and a new kids snack brand called Supa Secrets.
The product's broad appeal is obvious – Slim Secrets has been spotted at Rosemount Fashion Week (yes, even models eat them!), in the hands of Hollywood actors during the Oscars and Emmys, at Fitness expos, fun runs and next month in the Logie goodie bags here in Australia.
###