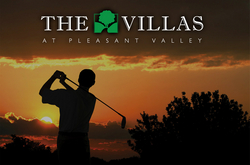 "I've invested the better part of the last two years pursuing The Villas at Pleasant Valley because I believed in it whole-heartedly," says developer John Burns.
Sutton, MA (PRWEB) April 6, 2011
With golf season about to kick into full-swing, there is a definite buzz is in the air as construction has finally started up again at The Villas at Pleasant Valley (http://www.VillasPV.com). The residential community surrounding the renowned golf course at Pleasant Valley Country Club is partially completed, with 43 owners currently in residence. The villa-style homes are available in duplex as well as stand-alone detached models. There are no age restrictions in the community and the homes offer many luxurious features such as controlled lighting systems, custom kitchens, granite countertops, tiled showers, extensive trim and molding throughout and golf cart garages. Additionally, several lots provide direct golf course frontage, fairway views and walk-out basements.
Previously the backdrop to several prestigious PGA and LPGA golf tournaments, Pleasant Valley Country Club (http://www.PleasantValleycc.com) has hosted the very best golfers in the game throughout its storied history. Recently purchased by Magill Associates, Inc. of Grafton Massachusetts, owners and developers of Highfields Golf and Country Club in Grafton, Pleasant Valley Country Club is undergoing a major re-birth, with significant investments being made in improving the grounds and the clubhouse.
"Hallmark Sotheby's International Realty (http://www.HallmarkSIR.com) is thrilled to be the marketing partner for the renaissance of The Villas at Pleasant Valley," says Erika Paul, President and Broker-Owner of the Hopkinton-based real estate firm. "With new ownership at the country club, a new reputable builder in place and an extraordinary marketing company now behind the project, we are excited to launch the re-birth of this prestigious lifestyle community."
Developer John Burns aggressively pursued the community for almost two years. Although construction had been stalled and hampered by the previous builder's financial troubles, Burns recognized the eminent potential of the project. "I've invested the better part of the last two years pursuing The Villas at Pleasant Valley because I believed in it whole-heartedly. A quality-built luxury residential community set on the fairways of such a renowned golf course was something very unique that I immediately recognized the potential in. With the golf course now under new ownership as well, it is apparent to me that the entire Pleasant Valley community is destined for continued success."
###