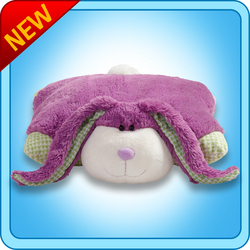 Oceanside, CA (PRWEB) April 6, 2011
Just in time for spring, a new sure-to-be-a-favorite Fluffy Bunny is hoppin' to town. She's anxious to meet up with her other springtime friends from the Pillow Pets™ family of products. A great gift any time of year, the Pillow Pets brand is currently highlighting special springtime plush folding animals – two varieties of bunny, a special edition ladybug, an orange butterfly, a frog, and a bumblebee – to brighten a child's face and breathe new life into baskets this Easter. Snuggly Pillow Pets plush animals provide kids with a cuddly companion as well as the functionality of a full-size pillow.
"Spring is a time of renewal and, as such, we have introduced some fresh, new faces to our Pillow Pets plush family," said Jennifer Telfer, CEO of CJ Products, the makers of Pillow Pets brand products. "We're thrilled to welcome Fluffy Bunny as well as a new limited edition pink and purple ladybug as well as an adorable butterfly who is sure to flutter into hearts across the country."
Made of ultra-soft chenille, Pillow Pets plush animals are much more than a stuffed toy. With a strap that closes underneath to transform the pillow into a friendly pet, they are an ideal travel pal, naptime buddy and all-around snuggly friend. Pillow Pets are available in jungle animals, farm critters and sea creatures – 36 different animals to choose from. Plus, because they are machine washable, they can stand up to a good "spring cleaning".
The plush foldable stuffed animals are manufactured and distributed by CJ Products, LLC, and Ontel Products Corporation, and are available for sale at retailers such as Walmart, Target, Walgreen's, Kohl's, Toys R Us, Bed, Bath & Beyond, Rite Aid, Sears, JC Penney, Kroger, Hallmark, mall kiosks, and specialty retailers as well as online at http://www.MyPillowPets.com. Through the month of April, CJ Products will donate $1 for every Pillow Pets plush animal sold at http://www.MyPillowPets.com to the American Red Cross to help with relief efforts in Japan.
About Pillow Pets™
Since 2003, Pillow Pets™ brand products have been bringing smiles to the faces of all ages. The concept for the snuggly companions was the brainchild of a San Diego-based mother of two, who had grown tired of picking up stuffed animals strewn across her children's rooms. What began with the simple goal of transforming a stuffed animal into a functional item for children has grown into an amazing jungle of popular retail and wholesale products including plush foldable stuffed animals, books, blankets, slippers and games. Pillow Pets plush animals are manufactured and distributed by CJ Products, LLC, and Ontel Products Corporation. For more information, please visit http://www.MyPillowPets.com.
# # #