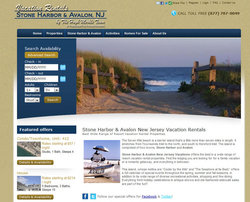 "The Vacation Storebuilder Platform was able to provide us with a robust, branded destination-based website with all the features we were seeking" - Hugh Merkle
Winnetka, IL (PRWEB) April 6, 2011
Vacation Storebuilder (VSB), an advanced Software-as-a-Service (SaaS) e-commerce platform for the vacation rental industry, has announced the launch of a destination-based vacation rental website for The Hugh Merkle Team @ Prudential Fox & Roach Realtors, in Stone Harbor and Avalon, New Jersey. The website, http://www.StoneHarborNewJerseyVacations.com, draws more than 200 of Hugh Merkle's vacation rental properties' content and inventory through RealTimeRental's (RTR) web-based property management system. RealTimeRental partnered with Vacation Storebuilder in 2010 to offer clients robust VSB-powered websites with an integrated booking engine that connects directly with RTR's property management system, which serves more than 175 vacation rental management companies in North America.
"To effectively market our vacation rental properties online, we knew we needed to launch an attractive, destination-based vacation rental website with built-in online marketing tools for search engine optimization, social media and e-mail marketing, that is easy to update with new content and connects with our RealTimeRental property management system" stated Hugh Merkle. "The Vacation Storebuilder Platform was able to provide us with a robust, branded destination-based website with all the features we were seeking as well as the functionality needed for customers to easily find the property of their choice and select their dates for booking."
Vacation Storebuilder provides vacation rental property managers and owners the ability to showcase their properties using rich content, make inventory available at optimal rental rates, help drive traffic to the site, and generate online bookings in a seamless experience for guests – on sophisticated, branded websites similar to that of major hotel brands.
John Slaughter, VP of Business Development for Vacation Storebuilder said, "We are pleased to be launching this Vacation Storebuilder powered website for Hugh Merkle, his Team and Prudential Fox & Roach Realtors – Stone Harbor/Avalon office, who clearly understands the need to deploy a destination-based website focused on vacation rental accommodations in order to maximize their online presence and convert customers searching for great vacation rental properties in New Jersey. We are excited to continue working with partners such as RealTimeRental and clients like The Hugh Merkle Team @ Prudential Fox & Roach Realtors to provide robust e-commerce websites for the vacation rental industry."
###