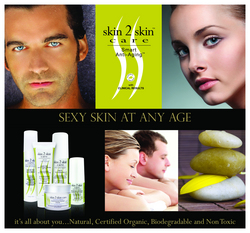 "I commit to never stop striving toward providing our clients with the tools to look and feel therir best today and tomorrow. I made it my mission to show my customers that beauty is timeless and provide them with the products that would make their skin
Palm Springs, CA (PRWEB) April 11, 2011
Tucked away in the quiet neighborhood of the Upper East Side in New York City lies a one stop shop for all your pharmaceutical, beauty and most importantly, organic needs. With the handful of big name pharmacies located just blocks from one another, Carnegie Hill Chemists sets itself apart from the rest with an old school pharmacy feel, retailing only the finest in holistic, natural and organic products.
Skin 2 Skin™ Care (http://www.skin2skincare.com) is proud to announce their arrival to the prestigious pharmacy, retailing their complete line of natural, anti-aging skin care products. Carrying an eclectic assortment of health and beauty products, cosmetics, vitamins, herbal and homeopathic products, Carnegie Hill is the perfect place for Skin 2 Skin™ Care to call home. The quiet ambiance of the European style neighborhood pharmacy provides quality along with personal service to its customers and clients through marrying holistic and natural beauty to traditional medicine.
Whether you are in your 20's, 50's or 70's Skin 2 Skin Care is a Medical-Grade, Certified Organic skin care line unlike anything else currently on the market. The entire line is PH balanced and formulated to be anti-inflammatory. The basis of the line is help the skin re-establish is natural barrier, rebuild and stimulate epidermal thickening through collagen and elastin enhancement, enhances productivity of Hyaluronic acid, repair damaged cells and keep healthy cells healthy and extend their life, protecting and repairing the skin from environmental and photoaging (sun damage) damage, balance skin tone, soften and smooth the skin, and reduce fine lines and wrinkles. This is accomplished through plant peptides with smallest possible molecular weight for optimal penetration with NO irritation. The line is completely free of Parabens, mineral oil, sulfates, surfactants, synthetic colors or fragrances, carcinogens, petroleum derivatives or any other harsh chemicals that ultimately damage the skin. Our formulations make the line ideal for anyone undergoing or healing from various types of cancer therapy, dermabrasion, laser procedures, peels and cosmetic surgery as well as those who suffer from Rosacea, adult acne, eczema and psoriasis. Skin 2 Skin Care's White Tea Face Wash is perfect for the Clarisonic or like facial cleansing brushes, the Revitalizing Eye Gels works with the Clarisonic Opel, and our Anti-Sagging Renewal Serum works with any professional or home hand held devises as Microcurrent and LED Red or Blue (Baby Quasar) devises.
With the motto "Beauty At Any Age Is Beauty", Skin 2 Skin™ Care's products use the highest recommended concentrations of peptides, Alpha Lipoic Acid, antioxidants, moisturizers, and anti-inflammatory ingredients to achieve quick, noticeable results without the use of any chemicals or carcinogens. Skin 2 Skin™ Care is also proud to carry the PETA and is Vegan-friendly seal of approval.
Ken Simpson says "I commit to never stop striving toward providing our clients with the tools to look and feel therir best today and tomorrow. I made it my mission to show my customers that beauty is timeless and provide them with the products that would make their skin naturally healthy and have Sexy Skin At Any Age."
With Skin 2 Skin Care™, you can expect the best science and nature have to offer to prevent, reverse, and repair damage caused from environmental factors as well to ensure you look as young as you feel.
Skin 2 Skin™ Care can be found at Carnegie Hill Chemists, located at 1842 2nd Avenue, between 95th and 96th St. New York, NY 10128. Open Monday through Friday 8:00am-8:00pm and Saturday 9:00am-6:00pm.
Skin 2 Skin Care is certified by PETA as Cruelty Free and Vegan
# # #