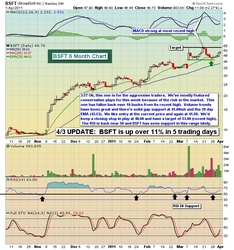 A better educated member can use all of our tools and technical analysis to a greater degree, and leads to the very high satisfaction you see in the survey.
Bethesda, MD (PRWEB) April 6, 2011
Invested Central, a Bethesda, Maryland company, has just released the findings of it's annual customer survey and review. The results will be used to further enhance already extremely high levels of customer satisfaction to position the company for growth through 2011.
The annual survey went out to all Invested Central members. The response rate was a very healthy 40%. The survey covered a wide breadth of information from demographic data, to trading behavior, to various aspects of customer satisfaction.
Among Invested Central Gold Members – the highest membership level – the satisfaction rate is 94%. According to John Hopkins, CEO, the largest contributing factors to this level of satisfaction are value and quality of information. "Our Gold members get a tremendous value. Many of them have told us that they would pay many times the current membership fee to get the type of information we provide, like the 'Anatomy of a Trade' features and online chats," Hopkins said. He continued, "Gold members get between seven and nine trading candidates every week, with accompanying technical background and justification. This is information that can be extremely valuable to a savvy trader."
The quantity of valuable information is another area that received high marks from survey respondents. There are a number of charts, reports and even training videos available across the membership spectrum and these are bolstered with live chats, which allow members to ask questions directly to the Invested Central team. This type of human interaction is key to produce better trading behaviors. "We have found that if we can educate our members, they will start making better trades and ultimately, make more money," said Tom Bowley, Chief Market Strategist for Invested Central. "A better educated member can use all of our tools and technical analysis to a greater degree, and leads to the very high satisfaction you see in the survey," he said.
Several other survey highlights indicate a loyal following. When asked if they would recommend Invested Central to a friend or colleague, there was not a single negative response – not one. With a large and growing Gold member base, this is further testament to overall satisfaction.
Invested Central is continuing to provide service enhancements and new analytical tools. In late March, they will be launching the "Traders Boot Camp," a 10 part email mini-course designed to provide high value lessons to traders and those who want to learn more about technical analysis. Some of the topics covered will be Market Makers, trading juiced ETF's, timing and several other critical topics.
By constantly delivering high quality information, Invested Central is poised for tremendous growth and continued off the chart customer satisfaction.
About Invested Central: Invested Central provides education and stock market guidance to individuals who have taken trading into their own hands. They provide pertinent information to members during the trading day, including market updates, stock ideas, and conduct live member only chats while the market is open to help enhance trading success.
###