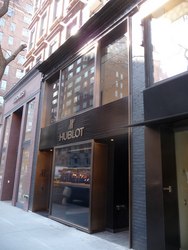 "I think it speaks volumes about our reputation that we are repeatedly called for projects that demand high-quality craftsmanship and attention to detail by businesses like Hublot or David Yurman that are built on those very qualities."
Hicksville, NY (PRWEB) April 7, 2011
Spring Fashion season is under way, and two of the most anticipated new designer-destinations on Madison Avenue prominently feature the high-end custom architectural metal and glass work of boutique design and fabrication firm, Jaroff Design & Mison Concepts, Inc. After proudly contributing the faux Corten-steel façade and interior metal trim to the award-winning David Yurman Townhouse last May, Joseph Jaroff and his team returned to the land of retail royalty with back-to-back installations for new flagship stores for an international fashion label and Hublot, the renowned Swiss watchmakers.
"It feels great to keep coming back to the neighborhood to work with such distinguished and aesthetically demanding clients," notes Joe Jaroff, the company's founder and chief designer. "I think it speaks volumes about our reputation that we are repeatedly called for projects that demand high-quality craftsmanship and attention to detail, working for world-class businesses like Hublot or David Yurman that are built on those very attributes."
Jaroff Design & Mison Concepts' were one of the few non-European decorative contractors entrusted by Peter Marino Architect with achieving the high-tech, precise yet tactile look desired for Hublot's first New York retail outlet, which opened the end of February just a few blocks from Kors. The company's contribution, a full two-story bronze façade frame with integrated security display windows, is the store's public face and sets the tone for the décor and merchandise inside. The custom metalwork invokes the traditional architecture of the converted townhouse, but with a modern twist, by etching the darker solid bronze frame to emulate brick facing. The Hublot name and logo, laser-cut in a warm mirror-polished bronze, stands out in bright contrast against the chocolate-brown of the machined fascia. However, over time, the relationship between tonalities and textures will change as the dark bronze patina has been crafted to slowly develop to incorporate a modeled green that will reflect the brand's sophistication and longevity and emulate the rich color palate of the watches. Other carefully-calibrated pairings seamlessly place the golden bronze logo into the dark bronze door frame, to the left when shoppers walk in, and inset into the entry mat under their feet, sunk to be flush with the carpet. The specialty glass display windows incorporate multiple structural interlays and security features to ensure the highest safety standards for the store. Fabricated at Mison Concepts' New York-area shop and reassembled on-site, the façade projects the combination of tough, rugged materiality and technologically-refined elegance that Hublot has made its signature style.
Mr. Jaroff, who has made a specialty of creating elaborate custom glass staircases for private and retail clients, worked with the design-team for a new store for a high-end fashion label that wanted to replace the glass stair that had been left by the space's previous tenant. To match their sleek, streamlined clothing, the client wanted the 4,000 square feet transformed into a pristine white on white showroom, with a tri-level clear glass staircase that would appear to float in space. However, new building codes and pre-existing space limitations required the use of thicker glass treads than would allow for such translucency. As an alternate, Jaroff suggested using an acid-etched glass with a mirror finish on the top and bottom that reflects the ambient light in such a way that the entire stair appears immaterial despite being quite substantive. Adding to this effect, the paired-down central stringer is clad with mirror polished stainless steel, as are the thin, minimalist railings, and the whole staircase is designed and engineered to conceal all fasteners and hardware. Completing the stairwell, Jaroff Designs & Mison Concepts' furnished the two-story acrylic wall and almost invisible acrylic railing around the balcony level that looks down over the stairs to the main space.
Jaroff Design & Mison Concepts were founded by artist Joseph Jaroff to provide custom metal & glass design and fabrication for the art, architecture and interior design communities. The companies' unique combination of studio and workshop, design consulting and design realization, artistic vision and real-world practicality is unparalleled in the field, producing architectural metal & glass products that benefit from this constant interaction. Jaroff Design offers design consulting steeped in the technical knowledge of materials and Mison Concepts is a dedicated custom metal fabrication facility. Their combined services address every stage of architectural metal & glass projects, from inspired concept and careful detailing to skilled fabrication and expert installation.
# # #