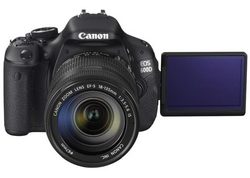 Some Canon EOS Rebel T3i and EOS 600D's have sold for as little as 16.46 EUR!
(PRWEB) April 7, 2011
The Canon EOS Rebel T3i and its European variant, the Canon EOS 600D already offers great value for money to all levels of photography enthusiasts especially when considering the dual excellence in video and image capabilities it combines. Nonetheless, record low prices have been achieved by BidRivals.com, through their exciting penny auction shopping system; some Canon EOS Rebel T3i and EOS 600D's have sold for as little as 16.46 EUR!
Apart from the great factors that come as standard with Canon, the greatest improvements and new specs of the new Canon EOS Rebel T3i (EOS 600D) include an articulated LCD screen, the 18 – mega pixel CMOS sensor, continuous shooting at 3.7 frames per second and inbuilt wireless flash technology. The current average savings made by customers purchasing the Canon EOS 600D from BidRivals is 96%.
Such record prices have been made available to the general public through the use of a relatively new system of online shopping called Penny Auctions which allows customers to benefit from incredible savings on a variety of items, including other digital cameras such as the Sony Alpha, Panasonic Lumix and Nikon Coolpix.
The company offers customers the ability to get up to 90% off brand new, premium quality merchandise via its entertaining Auction bidding system. BidRivals also operates as a traditional Online Retailer as it offers customers the option to purchase an item outright. With new items added to the catalogue every week, BidRivals takes pride in offering choice and variety and 24/7 customer support
About the Company
BidRivals Ltd owns and operates http://www.BidRivals.com, an Online Retail and Penny Auction portal. Based in Malta, the company also has regional offices in the USA and Australia. Operating since July 2009, BidRivals.com is one of the oldest Penny Auction operators in what is still a very fledgling industry.
For media enquiries please contact:
Keith Montanaro
e-mail: keith(at)bidrivals(dot)com
# # #