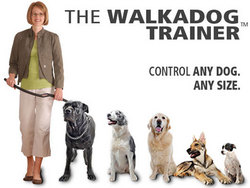 I was surprised how effectively it worked right away! -Cassia, Walkadog user
Provo, UT (PRWEB) April 7, 2011
Training made simple ... that is the motto Walkadog Inc. took on as they sought to make dog training easier. Their goal is to help make people enjoy their dogs more by helping correct bad behavior like jumping and pulling on leashes.
This new start up company's answer to bad behavior is the Walkadog™ Trainer, a two-handed control aid that allows dog owners to easily train dogs of all sizes. They have just launched a website: http://www.walkadog.com
With more than 75 million (registered) dogs in the US alone and new dogs being born every day, this company has identified a real need for simple training products for frustrated dog owners.
The current President of Walkadog Inc. was one such frustrated owner. He describes how the excitement of having a new dog grew tiring as the dog acted as any wild animal would. "Our dog was out of control and we didn't know what to do," says Peter Rane. Going to a professional trainer would be expensive and none of the training leads or harnesses at pet stores helped. To Rane, the problem stemmed from trying to train a dog on a standard loose leash: professional trainer or not, trying to train a dog with only a loose leash or rope is not the easiest thing to do.
For the year following the arrival of their new dog, Rane worked on developing prototypes that could be used to help with leash training. After months of development and testing, the Walkadog™ Trainer was born. "The great thing about our Trainer is that it can be used in so many different ways, it's great for kids to use so they don't get pulled over, and it's the same with elderly people. Anyone can follow our own simple training methods, or those recommended by others. In addition, the Walkadog™ Trainer can be used with any type of collar or harness and is great for in any setting, not just while training," says Rane.
The Walkadog™ Trainer consists of a rigid two-handed control lever that extends ergonomically across your body at the hips and just over the back of your dog, where an adjustable leash-end attaches to the dog's collar. Simple but effective, the Walkadog™ Trainer gives people of all ages more confidence in handling, controlling and training a dog at an economical price point. When using the two-handed control lever, the shape fits your body contours and the grips are comfortable—you aren't worried about getting pulled around and can focus on training your dog to walk at your side, quickly and easily. The leash-end attaching to the collar is also adjustable depending on the dog's height, limiting the dog's ability to pull, get tangled in between your legs or jump up on you.
Walkadog Inc. believes that dogs should be trained in the most simple and humane way. There is no need for a choke chain or other restraint since our Trainer does the work for you. Walkadog Inc. provides dog owners with access to affordable training products and looks forward to helping people train and walk their dogs.
# # #