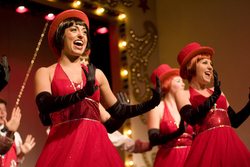 Our goal is to glamorize the city's best and worst of times through song, dance, and sequins!
San Francisco, CA (PRWEB) April 7, 2011
Back by popular demand, John Bisceglie's critically acclaimed "SF Follies" returns to San Francisco with a hilarious all-new show for 2011. In 2009 the musical comedy enjoyed a sold out thirteen week run at the Actors Theater in Union Square, and was honored as a Bay Area Theatre Critics Circle award winner for Best Musical, Best Director, Best Choreographer and Best Ensemble.
A favorite for both locals and visitors alike, SF Follies takes a wicked wink at SF's past, present and future. Meet the city's famous and not so famous local personalities, politicians, celebs, kooks, and killers as they skewer San Francisco's best and worst of times.
The show is a non-stop jaw-dropping musical revue, overflowing with singing, dancing and outrageous comedy. With earthquakes, hippies, rabid sea lions and a nearly naked gold miner, SF Follies is as unique and zany as the city itself.
The show features a dynamic cast of six men and six women who portray over one hundred personalities from SF's past, present and future including: Gavin Newsom, Patty Hearst, Allen Ginsberg, Brian Wilson, Harvey Milk, Dianne Feinstein, the SF Brown Twins, Jerry Brown, Tom Ammiano, the San Francisco Police force, Laughing Sal, Fred Chu, and more.
SF Follies 2011 Cast:
Jenna Davi, Emily Dolph, Shannon Foley, Noelle Guerin, Brett Hammon, Tenaya Hurst, Melissa Heinrich, Jose Montes, Ryan McBrearty, Vince Rodriguez, Bill Tankovich, Ernie Tovar
On the show's wild and wacky vibe, director John Bisceglie says, "Our goal is to glamorize the city's best and worst of times through song, dance, and sequins! Poking fun at our local celebrities and institutions has been a ton of fun, but we also wanted to capture the nostalgia of this beautiful city by the bay. I think we've hit that perfect balance of satire and sentimentality."
This show is a fast and funny look at life in San Francisco throughout the years. From vintage film footage to madcap sendups of current events within our foggy city, the show has an appeal for everyone, with a little spice thrown in for flavor. Recommended for mature audiences.
Written, Directed and Produced by John Bisceglie. Co-Written by Jason Tarshis. Choreography by Kayvon Kordestani.
Click here to view post show audience reactions and preview video!
Calendar Listing:
SF Follies Musical Revue
A favorite for both locals and visitors, SF Follies takes a wicked wink at SF's past, present and future. Meet San Francisco's famous and not so famous personalities, politicians, celebs, kooks, and killers as they expose San Francisco's best and worst of times. "You'll laugh your head off!" - KGO Radio. May 6th - June 5th. Saturday @ 8pm. Sunday @ 2pm. Theater 39 @ PIER 39. Beach Street & The Embarcadero. San Francisco, CA 94133. Tickets only $35 http://www.sffollies.com 1-800-838-3006
###