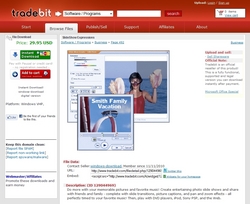 I am confident that Tradebit is now the largest single source of digital products...
Wilmington, DE (PRWEB) April 6, 2011
Tradebit.com, the open digital download marketplace, today announced a partnership with arvato that will offer direct access to commercial software packages like the Microsoft Office 2010 suite.
With this new partnership, the catalog of downloadable products on Tradebit.com now spawns hundreds of Terabytes, uniquely available on one single e-commerce platform.
In 2005, Tradebit.com started as an open marketplace with a few sound effects and eBooks. Today, more than 25,000 merchants are using the service to publish, market and sell their digital goods like stock photos, software packages or MP3 music.
"This partnership completes our spectrum of commercial offerings for the general public. I am confident that Tradebit is now the largest single source of digital products with over 25 million different titles for Windows, Mac and mobile devices, including the latest music or professional software packages," says Ralf Schwoebel , founder and CEO of Tradebit.
Consumers have access to a wide selection of music from CDbaby or 7digital, as well as direct access to a large collection of eBooks from ingram digital. Products can be downloaded without registration by paying with credit card or Paypal.
Tradebit has also automated the reseller functionality on the site, so that webmasters can sign-up for free and promote merchants for a commission.
About Tradebit
Tradebit hosts over 25,000 digital merchants selling over 25 million products to consumers all over the world. Its e-commerce platform offers merchants and affiliate promoters a way to earn a living – the most successful earn more than $100,000 per year – or simply earn some extra money.
Based on self-service, micro-payment technology, Tradebit fully automates the e-commerce process from content upload and merchandising to payment and customer service. Tradebit.com has grown more than 100% per year since its inception in 2005 and is one of the top 2,000 web sites in the world according to Quantcast.com. With offices in both the US and Germany, Tradebit offers sites in English (Tradebit.com), German (Tradebit.de), Italian (Tradebit.it) and Spanish (Tradebit.es).
US Media Contact: Paul Sterne, sterne (a) sterneco.com
###