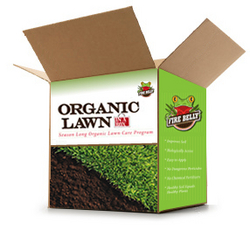 "We have a mission to provide high performance alternatives that will eliminate the use of dangerous pesticides and synthetic chemical fertilizers."
Auburn, NH (PRWEB) April 11, 2011
Natural Technologies Inc. has announced an initiative to increase awareness of the hazards of synthetic fertilizers and pesticides. With the recent acquisition of the Fire Belly® brand, it now has three divisions all promoting eco-friendly alternatives:
Fire Belly® Organics, a unique six-step, natural, organic lawn care program.
Bee-Safe™ Land Care, a dealer network of professional land care providers.
Nature-Clear™, a line of natural pond care products formulated to help restore ecological equilibrium in ponds & water gardens.
Fire Belly® Organic Lawn Care is the brainchild of Thomas Kelly, VP of Natural Technologies. After graduating from Syracuse University in 1993, Tom spent close to two decades working in the lawn care and agricultural industry. After many years of studying how synthetic chemical treatments adversely affected soil and environmental conditions, Tom went on to develop a patent -pending six step program (Organic Lawn In A Box™) that utilizes only natural and organic components to enhance turf. The key is to create a healthy soil with beneficial microbes, natural plant extracts and organic nutrients. Kelly states "Healthy soil means healthy plants! The end goal of this program is to ultimately eliminate the use of synthetic chemicals and pesticides."
The planned launch of the Bee-Safe™ Land Care dealer network will allow lawn care professionals the opportunity to reduce the learning curve associated with switching to a natural lawn program. Dealers will receive access to NTI's unique product technology and patent-pending application system that eliminates the need for synthetic chemicals and toxic pesticides. This, along with the intensive training program and continued technical support, allows dealers to offer their customers a natural alternative to manage lawn and garden care, and the chance to share in the mission of creating a safer environment.
The Nature-Clear™ line creates clean ponds and water gardens through a natural biological process. Poor water quality results from an overload of nutrients, primarily excess phosphates, nitrates and ammonia. The Nature-Clear™ beneficial microbes use up and remove this excess nutrient load, restoring the pond to its natural balance.
Headquartered in New Hampshire, Natural Technologies Inc. strives to be a leader in research on natural and organic products. Lou LaMarca, President and CEO of NTI states: "We have a mission to provide high performance alternatives that will eliminate the use of dangerous pesticides and synthetic chemical fertilizers. We use innovative technology to make progress towards saving the environment and creating a healthier world for people and their children."
For more information please contact: Tom Kelly at 603-587-0384. Also visit their web sites at http://www.NaturalTechinc.com and http://www.FireBellylawncare.com or on Twitter @Naturaltechinc
# # #