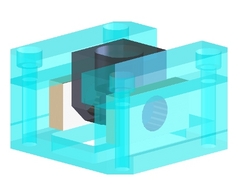 I am very excited about the feature product: SelfLube's new Lifter Slide. These deliver a significant value to customers by reducing expensive build time and cost
Coopersville, MI (PRWEB) April 8, 2011
SelfLube, a local West Michigan manufacturer of mold and die componentry is packing up and heading back to the annual Amerimold Show. This year the show will be held at the Donald E. Stephens Center in Rosemont, IL. The show is a two-day (April 13-14) exhibit that allows mold makers to network and show case their product lines, accentuating the design and engineering put forth in each part.
This will be the 12th year of the Amerimold Show and since it first started, SelfLube has attended each year. In addition to showing their product line to current customers, SelfLube also strives to attract new customers and make their name more prominent within the industry.
SelfLube will be in booth #541 and will be featuring their Trunnion Lifter Slides. There are currently three different trunnions available in both inch and metric. Each comes equipped with a pre-set angle travel (0-10 degrees), which combines with a trunnion action. This automatically accommodates lifter rod angles of up to 30 degrees, eliminating the need for additional machining.
With a lifter rod length adjustment feature, this means that lifter rods can be put in place and simply dialed in. "I am very excited about the feature product: SelfLube's new Lifter Slide. These deliver a significant value to customers by reducing expensive build time and cost," explains CEO Phil Allor.
For more information or to register go to the Amerimold website by clicking on the link in the right panel. For more information on SelfLube feel free to visit us online or call us at 800-690-3600.
SelfLube is a US based manufacturer of precision mold and die components such as Bushings, Gibs, Wear Strips, Parting Line Locks, Lifter Slides and related items - about 7,000 standard part numbers in all, many of which are self-lubricating. The company sells directly to build shops through North America, which results in both better pricing and better customer service. Its record for on time delivery is among the best in the industry. SelfLube is a successful growing company and is now in its 20th year of providing superior value to its customers.
###