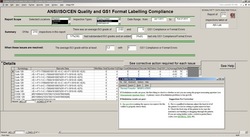 Westerville, OH (PRWEB) April 8, 2011
Automatic Identification Systems (AIS) is proud to announce the availability of SCANALYST 2011, the complete compliance inspection platform for linear barcodes, 2D barcodes and RFID tagging.
Announcing SCANALYST 2011 ™
In the early history of barcode use, productivity was the driving force. Today, although productivity is still important, barcode's data accuracy combined with current IT data storage and analysis tools has brought new strategic value to users and consumers. Barcode, 2D barcode and RFID are the 3 principal technologies used to link our activities and transactions in the physical world to our new digital world. Traceability and safety of our food supplies, preventing counterfeiting of drugs, improving patient safety in medication dispensing, passport security, electronic medical records are some of the more significant recent efforts that rely on the data accuracy and timeliness provided by barcode. To insure these important goals are met, the industries involved in these efforts have established mandatory barcode quality standards.
Today there are approximately 6 billion barcodes scanned each day around the world. Most scan just fine but some are very difficult to scan. You can experience this at your local supermarket self-checkout. Some codes just scan so fast it surprises you while others have to be held, twisted and turned for a few seconds before they are finally scanned. In some cases you have to get the cashier to key enter the code. This is usually caused by poorly printed barcodes. Substandard barcodes can be found beyond the supermarket. If you have ever wondered why the airlines lose so many bags, or why that new smartphone cannot read a 2D barcode in a magazine, or why a hospital patient wristband cannot be read, well… the chances are that poorly printed barcodes is at least one of the reasons. http://www.youtube.com/watch?v=lpC_sawUcMM
Jeff Nolan at AIS says "Barcode use is pervasive and global. It is an everyday part of our lives and we have come to expect it to work. When it does not work it is disruptive, expensive, and possibly dangerous. We are becoming more dependent on the technology and we all need it to be as efficient and accurate as we possibly can. That is the purpose of SCANALYST 2011 system, it helps users do it right."
To avoid problems and to be in compliance, users simply have to adhere to the standards for their industry. Use SCANALYST 2011 as an inspection workstation to test and determine your company's compliance grade SCANALYST Inspection Image. The detailed inspection results can be saved to the on-board database and shared with others in the company, used as a basis for quality certification or for SPC and development of best practices. Enterprise wide managers responsible for quality and conformance can use the data to monitor and improve their company's performance and reduce the risk of poor quality and non-compliance. SCANALYST Data Analysis Image Those barcode users in regulated industries such as pharmaceutical or medical device manufacturing can use the database to meet their requirements for record maintenance.
For more information contact Jeff Nolan at MKTG(at)AIS-CO(dot)COM or 614-431-3300
Product information at http://www.SCANALYST.com
# # #