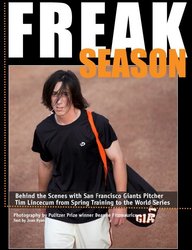 San Anselmo, CA (PRWEB) April 7, 2011
Two-time Cy Young Award-winning pitcher Tim Lincecum has joined forces with Pulitzer Prize-winning photojournalist Deanne Fitzmaurice and award-winning writer Joan Ryan to release Freak Season: Behind the Scenes with San Francisco Giants Pitcher Tim Lincecum from Spring Training to the World Series ($29.95; http://www.freakseason.com). This 82-page, four-color book is an intimate portrait of Lincecum's and his 2010 teammates' stirring triumph in winning the Giant's first World Series Championship since moving to San Francisco in 1958.
What is captured in Fitzmaurice's images and Ryan's compelling text is a behind-the-scenes' view of the life of an extremely private man. Contrary to his public image of rock-star pitcher, Lincecum is an introvert who keeps company mostly with childhood friends and shuns the spotlight. What emerges is a fearless competitor whose knees buckle when he has to speak in public, a restless man who can't sit still through a movie but has such hyper-focus on the mound that he sinks into what he describes as a sort of netherworld.
Lincecum allowed unprecedented access to Fitzmaurice during the 2010 season, commencing with spring training and culminating with the victory parade through the streets of San Francisco. Freak Season takes us into the clubhouse and the dugout, into Lincecum's home and hotel room. We see him during unguarded moments with teammates, friends, and family.
Freak Season tells the story of one of the most remarkable and interesting athletes of our generation during the trials and triumphs of a historic championship season. It is told by a photographer and a writer who have covered everything from major sporting events to the ravages of war. For any fan of baseball, and for those who wonder at the skill of anyone who has risen to the top of their profession, Freak Season's intimate images and taut text reveal the hopes, dreams, despair and, ultimately, the intensity that defines greatness.
Deanne Fitzmaurice is a San Francisco based multimedia storyteller who won the Pulitzer Prize for her photography in 2005. With a keen interest in today's prevailing social issues, Deanne has worked on a number of pieces with subjects ranging from women working in the sex industry in Korea to two men embarking on a married life together in California. Her work has been published in Time, Newsweek and Sports Illustrated, and her multimedia work has been featured on MSNBC as well as on corporate clients' websites. She is also a co-founder of Think Tank Photo, a camera bag company, with her husband, photographer Kurt Rogers.
Joan Ryan is an award-winning journalist and author. She was a pioneer in sports journalism, becoming one of the first female sports columnists in the country. Her book, Little Girls in Pretty Boxes: The Making and Breaking of Elite Gymnasts and Figure Skaters was named one of the "Top 100 Sports Books of All Time'' by Sports Illustrated. She is a media consultant for the San Francisco Giants and currently writing a memoir with World Series Champion catcher Bengie Molina (Simon & Schuster, 2012).
About K & D Photography
K & D Photography, Inc. was co-founded by award-winning photojournalists Deanne Fitzmaurice and Kurt Rogers. This photography studio produces work ranging from still photography to multimedia presentations, from gallery showings to publications for consumers, news organizations, and companies. Principals Fitzmaurice and Rogers are co-founders of Think Tank Photo (http://www.thinktankphoto.com) an innovative camera bag design firm for professional and serious photographers.
###