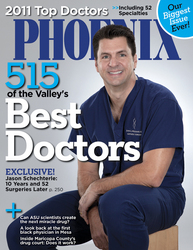 Phoenix, AZ (PRWEB) April 8, 2011
For the second consecutive year, PHOENIX magazine published another record-breaking Top Doctors' issue. Exceeding last April's issue by 48 pages, PHOENIX magazine's Top Doctors also realized revenue improvement of 17 percent.
PHOENIX magazine's Top Doctors', recognized by leading industry professionals as the best issue of its type in the United States, and continues to lead all city magazines with this April's 388-page issue, and more than $1 million in advertising revenue.
In additional to its paid circulation, PHOENIX magazine estimates 30,000 single copy sales for the April Top Doctors' issue—breaking all newsstand records in the Phoenix metro area.
PHOENIX magazine's Top Doctors' issue, published annually in April, salutes outstanding physicians in a variety of specialties. The 2011 edition features 515 of the Valley's best doctors, as chosen by their peers.
The 2011 Best Doctors issue will be on sale at newsstands March 24, 2011.
To learn more about PHOENIX magazine visit http://www.phoenixmag.com. About PHOENIX magazine: PHOENIX magazine, one of the nation's leading city and regional magazines, provides readers with information about all aspects of life in the Valley of the Sun, including the best places to live, Arizona history, Best of the Valley, Best Doctors, Phoenix dining, and much more. PHOENIX magazine is part of Cities West Publishing Inc., a Phoenix-based company that also publishes Phoenix Home & Garden magazine. PHOENIX magazine is an ABC-audited publication with an average paid circulation of 73,000.
# # #