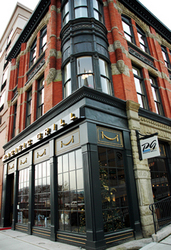 Tacoma, WA (PRWEB) April 7, 2011
Pacific Grill, a fine dining restaurant, has introduced All-Day Happy Hour in its bar & lounge. Pacific Grill offers one of the largest Happy Hour menus in the region with over 50 food items at 50% off-- including guest favorites such as Cheeseburger Sliders, Meat Candy & Ramen Bowls. Pacific Grill is offering Happy Hour pricing in the bar & lounge from open to close six (6) days a week. Pacific Grill is lead by chef/owner Chef Gordon Naccarato, previous winner of the prestigious Food & Wine Magazine's Best New Chef award. In 2010, Pacific Grill won Best Happy Hour in the King5 Best of Western Washington contest and has won multiple awards in Tacoma, WA & the Sound Puget Sound.
Happy Hour Times
Monday – Thursday: 11:30am to 10:00pm
Friday: 11:30am to 11:00pm
Saturday: 5:00pm to 11:00pm
Pacific Grill Restaurant, open since 2005, is located at the historic Waddell Building in the heart of Tacoma's revitalized downtown at 1502 Pacific Avenue. http://www.pacificgrilltacoma.com
Pacific Grill has a full service catering division and Events Center located at 1530 Pacific Avenue.
Pacific Grill
1502 Pacific Ave.
Tacoma, WA 98402
253.627.3535
###