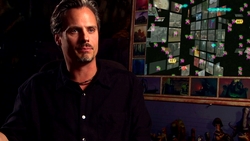 Sundance for the Facebook crowd.-Culture Rehab
Los Angeles, CA (PRWEB) April 8, 2011
3D, Yoko Ono Music, and Jason Alexander become part of the line up for 2nd Annual New Media Film Festival 2011.
This year's program includes film starring actors Jason Alexander, Sally Kirkland and Sid Ganis in the 35mm Los Angeles Premiere of NOT YOUR TIME (Jay Kamen Productions), along with 3D World Premiere STAYCATION U.S.A. (directed by Ned Wiseman), THE PHYSICS OF SURFING 3D (Passmore Labs ), and THE SUN IS DOWN, (directed by Jason Whiton) an award-winning "made on mobile" remix for Yoko Ono celebrating the Japanese meaning of Yoko's name, "Ocean Child. "
The 2nd Annual New Media Film Festival is being held at Los Angeles Film School, (6363 Sunset Boulevard, Hollywood, CA 90028) May 20-21, 2011, and will award over $12,000 in prizes. http://www.NewMediaFilmFestival.com
Judges from Pixar, UTA & Industrial Light & Magic, moderators Charlotte Huggins (Journey To The Center Of The Earth), Alison Savitch (Bangkok Dangerous), and Jeanette DePatie along with Interviewer Joshua J. Stecker (Script Magazine) join programming of films from around the world and will include World, North American, and Los Angeles Premieres.
Touted as "Facebook for the Sundance Crowd"- (Culture Rehab), the festivals categories include 3D, Apps, Animation, Digital Comics, Shot on RED, Docs, SRC, LGBT, Webseries, Mobile, Features, Shorts & Music Videos. Sponsors include PGA New Media, International 3D Society, KessPro Studio, Ink Tip, Edison Beer, Blue Angel Vodka, Mingle Media TV, and Select Services Films Inc.
Lorne Lanning, video game creator (Oddworld Series including Oddworld: ABE'S ODDYSEE) and Spencer Halpin of the controversial violence in video gaming documentary, SPENCER HALPIN'S MORAL KOMBAT, will be joining producer Ramy Katrib (DigitalFilm Tree), Film Festival founder/director Susan Johnston, Oscar, Grammy, Sundance winners and nominees to discuss the next decade's ways of digital, immersive storytelling.
Tickets are on sale now http://newmediafilmfestivaltickets-autohome.eventbrite.com/
For Registration information, complete agenda, and additional details, please visit: http://www.NewMediaFilmFestival.com
Contact:
Jay Randy Gordon
New Media Film Festival 2011 - Brand Manager
randy(at)jayrandygordon(dot)com
650-346-8127
# # #